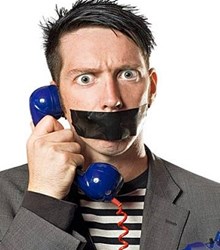 Dallas, Texas (PRWEB) March 21, 2013
The challenges of finding a job today are huge! Prospective candidates are screened with telephone interviews and employers are either eliminating them or asking them to come in for a face-to-face interview. Sadly, more of those telephone interviews end up with prospective candidates that have great skills being eliminated. For any job seeker that has had countless telephone interviews and no face-to-face interview, this complimentary webinar hosted by Career Confidential on March 26, 2013 will offer 25 Tips to a successful telephone interview.
Employers are weeding through stacks of resumes and very few candidates are surviving to move on to the next step, the face-to-face interview. The telephone interview is intimidating, even for the most seasoned job seeker that has been in the work force for years. Most of that intimidation comes from the job seeker not being property prepared. With this complimentary webinar March 26, 2013 hosted by Career Confidential, job seekers will learn 25 tips from Peggy McKee that will show job seekers how to be prepared for that telephone interview and close the call with a request to come in for face-to-face interview time.
This complimentary webinar, Telephone Interviews: 25 How To Tips You Need Now, will give every job seeker that attends the information that Peggy McKee has learned over her career as a Career Coach and Recruiter. She has found tips and tricks that will get any job seeker through the dreaded telephone interview with ease and get that request for a in-person interview. The job market is hard today and Career Confidential will make it easier for those who attend this complimentary webinar March 26, 2013. Register here and mark your calendar to attend this webinar, compliments of Career Confidential.
First impressions are everything, even with the telephone interview. By registering here for this complimentary webinar on March 26, 2013, anyone looking for a job will learn 25 tips that make their chances of a successful telephone interview better. Peggy McKee and Career Confidential have teamed up to bring this complimentary webinar, telephone Interviews: 25 How To Tips You Need Now for every job seeker that registers. The answers that job seekers give during the telephone interview are important in getting a face-to-face interview and these 25 tips are the tips that will make it happen. Not job seeker should be without this valuable information.
When that dreaded telephone interview starts with the first common question, "Tell me about yourself.", Peggy McKee, the CEO of Career Confidential and a Recruiter knows all too well that most job seekers find themselves at the intersection of Tongue Tied and Forgetful. Attending this complimentary webinar on March 26, 2013 will give you the road map to a successful telephone interview.
With this complimentary webinar, job seekers have the advantage of Career Coach Peggy McKee's 13 years' experience and expertise with telephone interviews. She has laid out a road map and will give every job seeker the directions during this live webinar on March 26, 2013. Career Confidential and Peggy McKee's experience will be shared during a complimentary live webinar for every job seeker that register here. Register today and be prepared to take away the most valuable job seeking information ever. Register here: http://careerconfidential.com/phone-interview-tips-training-webinar/
# # #
Career Confidential is committed to getting the unemployed back to work in 2013. After assisting over 10,000 people get a job, Career Confidential has set a goal to get 10,000 more people their dream jobs in 2013.Career Confidential exploded in 2012 with a 94% growth rate over 2011 in a down economy.
Based in Texas,Career Confidential specializes in the techniques and tools needed for a job search to be successful. This product is a customized and proven system that gives job seekers the power they need to nail the job they want.
With the guidance of CEO Peggy McKee and CTO Carl Chapman, two nationally recognized experts in the field of job search training, Career Confidential was founded in 2009 so that the original product, The 30/60/90 Day Business Plan, could be distributed more widely among job seekers across the world. From that one product, they now offer over 30 products that teach techniques and tricks to help every job seeker to land that perfect job.