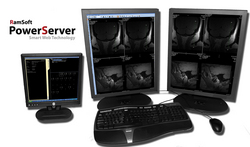 This opportunity is satisfying, but the real satisfaction will come as Aris customers come on board and as its operation begins to grow
Toronto, ON, Canada (PRWEB) November 13, 2007
RamSoft, a leading developer of affordable healthcare information technology, and Aris Teleradiology, a fast-growing radiology solutions company, have announced that Aris will implement RamSoft's PowerServer PACS technology by the end of 2007.
The partnership is significant for both companies. Aris anticipates significant growth during the coming years, and the RamSoft PACS product will provide the technology backbone to meet its goals. To its own credit, RamSoft was chosen over more than 30 PACS solution vendors -- including several other leading PACS companies -- in an extensive selection process.
"We're delighted," said Brian Kundtz, Chief Technology Officer for Aris. "We wanted a solution that would enable radiologists to take advantage of the web and internet access, no matter where in the world they were. We sought a product that would allow them to access images, do reporting, and quickly and easily have the technology solution in front of them. We felt RamSoft's solution was one of the strongest from a teleradiology standpoint."
Offered in multiple configurations, RamSoft's PowerServer provides a reliable, web-based approach to PACS, accommodating unlimited users and workstations. Key features include study tracking from start to finish, unmatched real-time worklist flexibility, prefetching of current and prior studies to each site or workstation, and flexible viewing protocols. A full suite of clinical tools enables optimal image manipulation, and a digital dictation module allows physicians to dictate reports and have them transcribed into formatted Microsoft Word reports.
The PowerServer PACS is being installed at Aris' Ohio data center. As clients are enlisted, their facilities will deploy either a low-cost RamSoft Gateway Router or the company's standard Gateway solution.
"This product is strong and user friendly, and that's why we decided to partner with RamSoft," Ed Bachmann, VP of Sales and Marketing for Aris said. "It deploys very nicely--downloads are fast, connectivity is smooth, and the entire process is uncomplicated. No matter where our physicians go they can bring up the web client and be reading quickly, and that's what we were looking for."
Carl Kozlowski, President of Aris, went a step further. "Acquiring a PACS that we could implement today but that would support us next year and four or five years down the line was essential to us. We believe we've selected a system that can grow with us and that will allow us to meet our business goals of substantial growth over the next five years."
Vijay Ramanathan, President and CEO of RamSoft, also expressed delight at the partnership."This opportunity is satisfying, but the real satisfaction will come as Aris customers come on board and as its operation begins to grow," he said. "As we look to the future with Aris, we're very excited."
Aris Teleradiology is a radiology solutions company based in Hudson, Ohio. Aris provides day and evening radiology services to hospitals, imaging centers, and radiology groups. Aris offers the flexibility to provide preliminary and final reads and can also provide on site coverage. The company is built on offering the best solutions for our clients including reads from fellowship-trained radiologists with subspecialty expertise.
RamSoft provides some of the most sophisticated and complete PACS solutions to ambulatory and acute care facilities. Through the Customer Action Initiative (CAI), RamSoft is working with radiologists, physicians, and staff to develop products that truly enhances the quality of patient care. RamSoft will display PowerServer PACS at the RSNA conference, booth 4303.
###