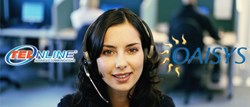 These products are essential components of best practices for business by delivering advance contact center management and quality assurance tools, as well as powerful collaboration and knowledge sharing capabilities by improving overall performance
Miramar, FL (PRWEB) March 30, 2012
OAISYS, a leader in business call recording and contact center management solutions, today announced a new channel partnership with TelOnline to offer voice documentation and interaction management solutions in the United States and Latin America.
The call recording and contact center management solutions offered are customizable for every company size and budget. Companies can buy:

Tracer: the industry's leading call recording and contact center management solution, allows organizations to record calls, conduct live and auto call monitoring, evaluate and rank employee
Talkument: personal voice documentation and collaboration software utilizes patent-pending OAISYS Portable Voice Document (PVD™) technology, enabling individual businesspeople to store, organize, play back, annotate and share calls for collaboration and process compliance.
"We are delighted to have TelOnline as a channel partner," said Brian Spencer, president of OAISYS. "Given their recognition of the growing market demand for call recording and willingness to embrace new technologies and solutions to meet that demand, we are certain of a long and mutually beneficial partnership for them, ourselves and our mutual customers."
"With this new partnership, we believe we will provide the best price-performance call recording and contact center management solutions in the industry. These products are essential components of best practices for business by delivering advance contact center management and quality assurance tools, as well as powerful collaboration and knowledge sharing capabilities by improving overall business performance," stated TelOnline's President Juan Carlos Castañeda.
About OAISYS:
OAISYS (http://www.oaisys.com) is a leading developer of call recording and contact center management solutions for a wide range of organizations, from small- to medium-sized businesses to multi-site large enterprises. The OAISYS voice documentation and interaction management solutions help companies within a variety of industries—including healthcare, automotive dealerships, financial services, and the public sector—attract and retain customers by digitally capturing phone-based interactions for simple retrieval, playback and management. Compatible with leading business communications system providers, as well as SIP-based communications services, OAISYS Tracer and Talkument applications help companies improve risk management, quality assurance, customer retention, dispute resolution, regulatory compliance requirements and other critical business concerns. OAISYS is headquartered in Tempe, Ariz. OAISYS Limited is located in Cambridge, England.
About TelOnline:
TelOnline is a company that offers and consults specialized solutions in telephony. The tailored solutions include VoIP telephony, IP-PBX, call centers, automatic dialers, call recording systems, cloud telephony services, embedded software development for telephony and integration, video conference and more. TelOnline is a selected partner of Digium, Asterisk makers, Oaisys, as well as numerous strategic business partner alliances within the industry. TelOnline is committed to providing the best products and services to markets in the United States, Caribbean and Latin America. Our team is highly experienced in commercial, development and support engineers. If you would like more information about TelOnline, please visit http://www.Telonline.com or call USA +1(954)894-6181 or call international +57(1)325-9832.