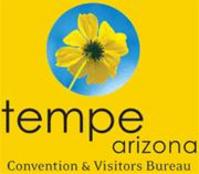 We wanted the focus of the new Web site to be on visitor interaction and communication. This new Web site allows visitors to blog, browse our dynamic Flickr photo gallery, watch videos from our YouTube channel and find Tempe-based activities and events that excite them
Tempe, AZ (PRWEB) February 17, 2009
Tempe Convention and Visitors Bureau (Tempe CVB) unveiled its new and improved, integrated Web site this month, following a meticulous development process with full-service interactive advertising agency Sitewire.
The new Web site puts power into the hands of its users and contains a wealth of information on all things Tempe. Visitors can plan a night out using the interactive Google maps page to customize their Tempe experience or even write in the blog. A tag cloud of popular searches gives visitors a glimpse of what's hot in Tempe.
"We wanted the focus of the new Web site to be on visitor interaction and communication. This new Web site allows visitors to blog, browse our dynamic Flickr photo gallery, watch videos from our YouTube channel and find Tempe-based activities and events that excite them," explained Michael Martin, Executive Vice President of the Tempe Convention and Visitors Bureau.
Understanding the need for form as well as function, Tempe CVB collaborated with longtime partner and leader in the field of interactive marketing, Sitewire, to develop the user-supported site. Sitewire took an integrated approach, supplying the design of the new Web site while also incorporating complete back end functionality.
For more information on Tempe CVB and other events and activities in Tempe, visit the new Web site at http://www.tempecvb.com.
About Tempe Convention and Visitors Bureau
The Tempe Convention and Visitors Bureau is a non-profit organization devoted to marketing Tempe, Arizona as a desirable visitor and group destination site. The Tempe Convention and Visitors Bureau's mission is to also provide visitors, media professionals and meeting planners with information on hotels, restaurants, entertainment and local points of interest. To learn more about Tempe, Arizona please call 480-894-8158 or 800-283-6734 or visit the updated site at http://www.tempecvb.com.
About Sitewire
Sitewire is an interactive marketing agency dedicated to innovative search engine marketing, Web design and measurement. Sitewire experts use proven methods and proprietary technology to cost-effectively increase Web presence and the bottom line. As one of The Business Journal's top-ranked advertising agencies, Sitewire is also a proud recipient of the Arizona Companies to Watch Award, FORTUNE Small Business Best Bosses Award and the Monster.com Spirit of Enterprise Award. Discover Sitewire at http://www.sitewire.net or blog with them at http://www.blogonawire.net.
###