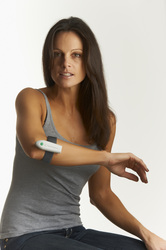 "Tenease has evolved from research I carried out as a trainee surgeon"
(PRWeb UK) January 26, 2011
Pain in the elbow when you lift your hand? Losing grip strength in one arm? Struggling to lift a cup from the cupboard, never mind those weights at the gym? If you've said 'yes' to any of the above then its very likely you've got tennis elbow. Or, golfer's elbow if the pain is on the inside of the arm.
Tennis Elbow, known in medical circles as lateral epicondylitis, usually affects people between the ages of 35 and 55 but can affect all ages. It's not a sport related injury and can affect all anyone from manual workers to high court judges. Usually lasting for between 3 and 6 months, it's a painful and debilitating condition with over 1.2 million new cases in the UK every year.
Recent studies from NICE, the National Institute for Clinical Evidence shows that many tennis elbow treatments vary in effectiveness from poor.. to very poor. So what are your options?
If you visit your GP he may offer you a cortico-steroid injection. These are painful, can lead to whitening of the skin and shrinkage of the fat around the injection site and give only temporary relief from the pain. In fact, the pain often comes back even worse when the injection wears off.
What about straps and clasps? You can buy these for a few pounds in most chemists but studies have shown they not effective at relieving the pain. They just provide some protection for the elbow. Surprisingly, they still sell in their thousands every day.
Physiotherapy perhaps? Treatment by a physio can be effective but its also expensive and slow to work. Also, every physio has a different method of treatment as there's no recognized guidelines that can be followed to ensure success.
Luckily, Tenease, a small medical device used for pain relief has been available online in the UK and US since 2010 is now being distributed to 1200 chemists to help sufferers of the condition. Medical Light Engineering, manufacturers of the device have partnered with Trinity Sales and Marketing, an Oxford based marketing company with a sales force of 14 and over 20 years experience in pharmacy distribution to make Tenease available across the UK.
With 90 people now employed in the manufacture and distribution of the device, MLE is now shipping Tenease all over the world as the leading treatment for tennis elbow available.
So how does it work? Mr Vhadra, consultant orthapeodic surgeon and inventor of Tenease explains..
"Tenease has evolved from research I carried out as a trainee surgeon. Vibration therapy has been available for many years with much research published in medical literature on its effectiveness. However, this treatment required large and expensive machines which meant the therapy was only available in hospital. We've been able to miniaturise the electronics used in the larger hospital machines so Tenease is now a portable, easy to use, safe and effective treatment that many tennis elbow sufferers are finding invaluable."
There are many unregulated devices for pain relief available which are mostly ineffective. Tenease has been proven in clinical research to work as an effective analgesic. It's a class IIa medical product and therefore regulated by the MHRA, the government body that monitors the production of medical devices. The initial research was published and presented at the Royal College of General Practicioners annual conference.
Tenease is available online at http://tenease.com or shortly in pharmcies and chemists all over the UK at only £49.99 including VAT. Order's placed online are dispatched the same day by registered post.
Medical Light Engineering Ltd
Picquerel House,
La Route du Picquerel,
St Sampson
Guernsey
GY2 4SD
Telephone (office hours 9am to 5pm) +44 (0) 1481 240627
Telephone order line: 0845 680 9635
Visit http://tenease.com now and learn to live pain free
###