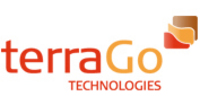 Overall 2010 was a year of significant growth and expansion for TerraGo.
Atlanta, GA (PRWEB) January 31, 2011
TerraGo Technologies, Inc., a leading provider of geospatial collaboration software solutions, achieved its strongest performance to date in 2010 - a year marked by double-digit growth in sales and revenue, customer and partnership expansion, new product innovation, and increased global recognition as the provider of choice for software that takes geospatial intelligence to the edge of the enterprise and back.
TerraGo grew its customer base to 250 federal government agencies, signed on its 900th TerraGo® GeoPDF® production customer, and surpassed its goal of 10,000 organizations using the TerraGo Toolbar™. TerraGo also achieved significant milestones with key strategic partners and new product enhancements, including the addition of 3D GeoPDF and "internationalized" language capabilities to its product portfolio. And, the company continued hiring leading industry talent, more than doubling its engineering staff.
"Overall 2010 was a year of significant growth and expansion for TerraGo," said Rick Cobb, president and CEO of TerraGo Technologies. "Plus we achieved break-even performance, and from an emerging technology company perspective, that's a milestone we're quite proud of. In addition, we forged some tremendous new partnerships around self-service GeoPDF map book creation and distribution, as well as dynamic field data collection and sharing."
In 2010, TerraGo and Hitachi formed a strategic partnership under which Hitachi became a development partner and master distributor of TerraGo software in Asia, as well as a strategic investor in the company. TerraGo also joined the new Esri Partner Network as a Gold Tier partner. This new level of partnership has allowed TerraGo to enhance sales, marketing, and development efforts shared by the two companies.
TerraGo has also been working closely with Adobe over the past several months to provide an upgrade path for Acrobat 9 Pro Extended customers who need to continue to author geospatial PDF files and perform advanced geospatial functions. Additionally, Adobe and TerraGo signed an agreement under which TerraGo is providing software engineering services in support of geospatial PDF consumption in Acrobat X and Reader X.
2010 was also a milestone year for TerraGo in that the company marked its fifth anniversary of its founding, as well as celebrated the one-year anniversary of being awarded a U.S. patent (#7,562,289) for methods and systems for encoding geographic coordinates and features in portable document format files.
"Over the past year we've witnessed a concerted effort to truly liberate enterprise-class geospatial data, with the geospatial market fully embracing the idea of empowering their mobile workers with more timely, relevant geospatial information," added Cobb. "If you can't put geospatial information to work, it never becomes real, actionable intelligence and organizations fail to fully realize the return on their geospatial investments."
For more information on TerraGo GeoPDF solutions, please contact sales(at)terragotech(dot)com or visit http://www.terragotech.com.
About TerraGo Technologies
TerraGo Technologies delivers software applications that extend the access and application of maps and imagery for mobile field professionals who rely on geospatial information to do their jobs. Thousands of global organizations, including many defense and intelligence agencies, petroleum and utility companies, public safety departments, and environmental engineering teams, depend on TerraGo software. The TerraGo Publisher™ Suite allows organizations to consume and optimize data from any source and create GeoPDF maps and imagery. The TerraGo Collaboration™ suite offers desktop, Web-based and mobile software applications that automate geospatial collaboration and information gathering and sharing. When used in conjunction with TerraGo Composer™, customers are able to configure easy-to-use 2D and 3D maps, imagery, and digital GeoPDF MapBook products while embedding relevant business context, forms, and workflows. With a strong ecosystem of partners, including Adobe, BAE Systems, Esri, ERDAS, Hitachi, Intergraph, and Trimble, millions of professionals use geospatial data that has been enabled by TerraGo in order to be more productive, improve quality, and make better decisions. For more information, visit http://www.terragotech.com.
TerraGo software creates GeoPDF maps and imagery that conform to the specifications published by the Open Geospatial Consortium as an OGC Best Practice and those published by Adobe as proposed geospatial extensions to ISO 32000.
TerraGo and GeoPDF are registered trademarks of TerraGo Technologies, Inc. All other trademarks are the property of their respective owners.
Media contact: Chris Parente
Strategic Communications Group
(301) 408-4500
cparente(at)gotostrategic(dot)com
###