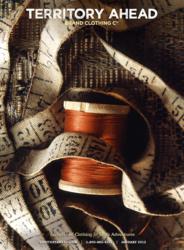 Our company was founded on the idea of close attention to detail… Our new look reflects that.
Santa Barbara, CA (PRWEB) January 24, 2012
Multi-channel clothing retailer Territory Ahead is inviting customers to take a closer look at its new spring catalog and website – literally. As part of an extensive brand-building effort, the Santa Barbara-based company has revamped its presentation to showcase product colors, textures and details more closely and clearly than ever before.
"Our company was founded on the idea of close attention to detail," says Territory Ahead president Cathy Fultineer. "We've always built our clothing from the threads up – creating our own fabrics and designing our own patterns and details to produce something special – something you won't find anywhere else. Our new look reflects that ideal."
Longtime Territory Ahead customers will find the same upscale and comfortable styles of men's clothing and women's clothing they know and love, but in a new format that makes both the catalog and website easier to shop. The photographic style, setting and lighting have shifted to give shoppers a better sense of exactly what they'll be receiving when they order. And new "Threads Up Design" sidebars, headlines and close-ups will tell the stories of product creation, craftsmanship and special details.
"A big part of our new look came from listening to our customers," say Ryan Shadrin, vice president of merchandising and creative. "Our goal has always been to exceed expectations of quality and service – and make sure we're providing the best shopping experience possible. So the feedback has been a catalyst for many of the changes we're implementing."
To browse and shop the new website or request a catalog, visit Territory Ahead.
Territory Ahead began its journey in 1988 as a new kind of clothing company, offering personality through special fabrics; fine details; and easy, wearable designs. The company offers a collection of men's and women's clothing and accessory items each season through the nationally distributed catalog; website; and retail stores in California, Washington, and Illinois.
###