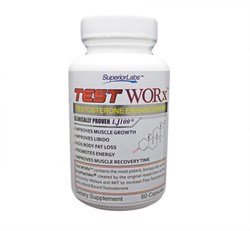 Almost finished with my first bottle. I can say I have noticed differences overall in body/muscle composition. Recovery has been better, and there is an increase in drive. - Leighton - Customer Review
San Diego (PRWEB) March 04, 2013
SuperiorLabs LLC proudly announce their Test Worx formula, a testosterone booster that helps to improve men's sex drive, strength, and energy levels naturally, will be available internationally with their new, No-Cost shipping policy.
Test Worx is quickly gaining in popularity for its reputation and effectiveness. On their website, http://www.mytestworx.com, SuperiorLabs LLC is offering the product with free shipping to international countries because of demand by customers specifically in Canada, United Kingdom and Australia. This incredibly powerful all-natural testosterone booster helps men to increase their overall well-being by targeting muscle strength, mood, energy, and combating the typical symptoms of low testosterone. Lower testosterone levels are a natural occurrence for men as they begin to age, and this revolutionary formula gives men the boost they need for optimal performance. With a strong money back guarantee and solid reviews praising Test Worx, this testosterone booster is one of the top products on the market.
In the past, testosterone supplements have been stigmatized as only being used by body builders to pack on muscle but more recent studies and education have shown the effectiveness of supplementation as an effective means of combating low t. When men begin to age, testosterone decreases sharply and leads to poor mood, fatigue, and loss of vigor. The Test Worx supplement is designed to safely increase these levels without harmful side effects that pharmaceutical drugs can have. The supplement targets SHBG (sex hormone binding globulin), a substance known for binding testosterone to fat. The product works by lowering the amount of globulin, which results in more available testosterone. This helps men to efficiently tone their bodies and build muscle and give them a quicker recovery time from workouts, which also helps to boost confidence and overall well-being.
One of the many reasons Test Worx is so popular is because men have seen noticeable results after only a few weeks. Reviews and feedback from customers on other, 3rd party websites give this product 4 or 5 stars for its effectiveness.
Travis Brassard, a happy user who has seen the benefits of Test Worx personally, has added it to his fitness routine saying "I am able to cut fat, maintain high levels of energy and focus in and out of the gym." He goes on to note that he has felt stronger mentally, more motivated, and energized while using Test Worx. More reviews and information can be found on the Test Worx website.