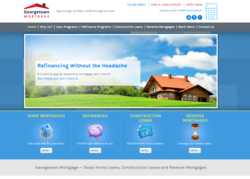 GEORGETOWN, TEXAS (PRWEB) November 29, 2012
Georgetown Mortgage announces the addition of Texas FHA Streamline Refinances to its list of refinancing services.
The bank offers Texas FHA Streamline Refinancing to homeowners with mortgages that are already insured by the Federal Housing Administration.
An FHA streamline refinance allows the borrower to reduce the interest rate on his or her current home loan quickly and often without an appraisal. It requires less documentation than traditional refinancing options and can save a borrower both time and money.
FHA Streamline Refinancing is only open to borrowers who have mortgages insured by the FHA and are current on their mortgage payments. The refinance must also lower a borrower's monthly principal and interest payments, or, in certain situations, convert an adjustable-rate mortgage into a fixed-rate mortgage.
"FHA streamline is a great way for homeowners to lower their interest rate quickly," said Kristi France, a Residential Mortgage Loan Originator with Georgetown Mortgage. "Given the current economic climate there's really no better time to refinance. We probably won't ever see rates this low again."
Georgetown Mortgage prides itself on its commitment to customer service. Unlike other mortgage companies, Georgetown Mortgage provides every applicant with a specific loan originator who can work with them through the loan process and make sure they find a loan that fits their needs.
To learn more about Georgetown Mortgage's refinancing programs, click here.
About Georgetown Mortgage
Georgetown Mortgage is a full-service mortgage bank in Georgetown, Texas. The bank provides home mortgages, refinances, construction loans and reverse mortgages to people across the state of Texas. Georgetown Mortgage aims to find the best mortgage solutions for its clients through the guidance of a personal loan consultant who works with the customer from beginning to end of the mortgage process. Although Georgetown Mortgage offers big bank products and services, its consultants pride themselves on offering the friendly service of a local bank.