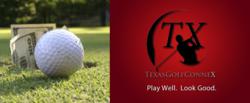 "Something has been driving me for 5 years to create golf tournaments that are not only a lot of fun for our local Houston golfers, but are a vehicle for raising awareness and money for kids in need." Allen Baytes, Tournament Director, TGC
Houston, TX (PRWEB) March 28, 2013
Texas Golf ConneXion (TGC), Houston's #1 online source for golf skins games is launching the first in a series of Compete for Compassion golf tournaments in 2013 designed to help raise thousands of dollars for local children's charities.
The first event of the year, scheduled for April 28, 2013 at High Meadow Ranch Golf Club, is a FUNdraiser, where 2-person teams scramble to win $5,000 in Skins and a $5,000 medal purse. Handicaps, mulligans and gimmees are not in play, having been replaced with a true spirit of friendly competition. Entry fees are $195 (plus taxes) per player and the registration deadline is April 15, 2013.
Allen Baytes, founder and visionary of Compete for Compassion aspires to have these events as the "must play tournaments" for Houston golfers, by bringing more fun back into the game and leveraging the generosity of players and sponsors to make a positive impact in the community.
In 2008/2009 TGC hosted a series of "proof of concept" events to test the viability for Compete for Compassion. The tournament received high accolades from players and thousands in charitable contributions. But as with all sponsored golf initiatives, the end of 2009 dried up the flow of financial support and Baytes' vision was put on hold until 2012 saw a turnaround in the industry and more golfers returning to the fairways.
"Compete for Compassion grew out of my love for the game and a compelling desire to use my passion for golf for a greater good," said Baytes. "Something has been driving me for 5 years to create tournaments that are not only a lot of fun for our local Houston golfers, but are a vehicle for raising awareness and money for kids in need."
No charity tournament can run without sponsorship, and this year Compete for Compassion has been fortunate to receive support from a number of companies who share the same commitment to the game and to helping children reach their full potential, including: Swanson Golf Center, Piretti Fine Putters, Blue Label Vodka, and Peli Peli Restaurant.
Swanson Golf Center is holding its annual Demo Day on April 6, 2013 where visitors can enrol for the first Compete for Compassion event.
"We are delighted to offer our support to Compete for Compassion and the work they are doing," said Matt Swanson, owner of Swanson Golf Center. "Golfers are well known for 'giving back' and we are proud to partner with the organizers and players to be game changers for children who desperately need help."
"We are extremely grateful to our sponsors and their generosity," continued Baytes. "But we can't sit on our laurels; we still need to continue to grow our contributions by attracting even more sponsors. But I have a strong belief in the power and passion of people in the golf industry and am confident together we will be able to raise even more money for our kids and make a significant difference in their futures."
Numerous sponsorship levels are available. To learn more, contact Allen Baytes, Tournament Director at abaytes(at)baytes(dot)com, (713) 824-4636
About Swanson Golf Center
Swanson Golf Center is a one-stop practice facility in Houston, with a driving range, short-game practice area, teaching pros and club fitters on hand to take your game to the next level. Its mission is to provide a place for all players to develop their game and realize their true playing potential.
It was named one of Golf Digest's America's Top 100 Fitters in 2011 and voted Best Practice Facility by Houston Chronicle's 2010 Golf Guide.
About Texas Golf ConneXion
Texas Golf ConneXion is Houston's #1 Online Source for Skins Games. We are the best place to come to learn more about where skins games are being played in Houston. Our goal is to market and promote fun on the golf course. We are dedicated to providing our visitors, customers and golfers with reliable golfing information, apparel, and equipment to help them improve their game. We also host great golf tournaments to create friendly competition for a good cause.
Media resources
Texas Golf ConneXion website, Facebook Page
Follow us on Twitter @TXGolfConnexion
Compete For Compassion Registration
Allen Baytes, Tournament Director: abaytes(at)baytes(dot)com; (713) 824-4636
Media contact:
Gayle Moss: gayle_moss(at)on-mark-it(dot)com; (604) 671-4516; Skype: Gayle.Moss