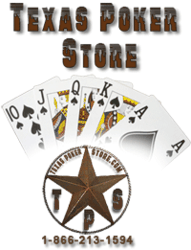 We are extremely excited about inking a deal with Crexendo, Inc., as well as adding two talented poker writers to our blog site
College Station, Texas (PRWEB) March 18, 2013
In a move to capitalize on its current success and growth in customers and followers, the Texas Poker Store has decided to retain the services of Crexendo, Inc., a highly respected SEO company who will work to broaden the Texas Poker Store's online reach to target audiences with marketing strategies including: SEO, conversion rate optimization, link building, social networking and web analytics.
"We were getting emails almost daily from various companies pitching their SEO services to us," said Jim Paris, owner and Chief Dealer. "When we analyzed their proposals, we ultimately determined that Crexendo, Inc. was the company that best suited our needs and had the most credibility."
There are multiple moving parts to running a successful online business and Paris has pursued most of them. In addition to continuously adding to his product line and bringing on new suppliers for specialty items, running discounts, special holiday prices and other store-related operations, Paris has also gotten involved with several charitable events, donating prize poker chips packages and other poker supplies from the Texas Poker Store. "There's nothing better than helping a worthy cause while also increasing your brand recognition," Paris stated.
Paris has also embraced the world of social media, with a TPS Facebook page, a TPS Pinterest page and a TPS twitter account to name a few. "Along with The Texas Poker Store, we also run a companion site called The Texas Poker Store Blog, where we blog two or three times a week. Of course, once the blog is written, we post it on Facebook, Stumbleupon, Myspace, Google+, and tweet it out to our followers.
"We've run all kinds of contests, the most popular being the predict-the-score contests we ran during the 2012 Aggie football season and our Super Bowl contest," added Paris. "Winners walked away with some great poker prizes, including poker signs and chip cases, and we gained new fans and potential customers."
In keeping with its growth agenda, the Texas Poker Store Blog has recently added two new writers to its family, each with a unique poker perspective.
"We're hoping that each of these gifted bloggers develops their own following, which is why we're making a point of introducing them to our fans," said Paris.
Troy "T-Licious" Davidson, one of TPS' new bloggers, is a lifelong Texan, born and raised in Dallas. He graduated from Texas A&M University where he held leadership positions in numerous organizations. Troy has spent 18 years in the IT industry at two of the world's largest financial services firms. Troy enjoys organizing anything from large IT projects to annual golf trips, vacations, and poker games. He developed his love of poker over the past four years and continues to play in local games and host events at the infamous party barn where most of the Texas Poker Store's music video, "I May Be Bluffin" was shot.
Vineet "Vinny The Venetian" Bailur is a professional poker player based in Columbus, OH. He grew up in Mumbai, India and obtained his master's degree from Texas A&M University. Vineet is an Architect and a creative designer. Vineet started playing poker for survival in 2009 and took it up professionally in 2011 owing to a combination of his disdain for the corporate lifestyle, his love of freedom and his ability to be a money-making poker player.
"We are extremely excited about inking a deal with Crexendo, Inc., as well as adding two talented poker writers to our blog site," Paris stated.
About Texas Poker Store
Located in College Station - Bryan, Texas, the Texas Poker Store is a fully-stocked online poker store that offers 100 percent secured shopping and features hundreds of poker supplies. The Texas Poker Store was founded by Poker Lovers and Die Hard Players, Jim and Lynn Paris. We live in Texas, we play Texas Hold 'em and we welcome you to visit our store. You can find the Texas Poker Store at http://www.texaspokerstore.com, visit their blog at http://www.texaspokerstoreblog.com, and follow them on Twitter, FaceBook and on Pinterest.
Jim Paris
Chief Dealer
Texas Poker Store
302 N. Bryan Street
Bryan, Texas 77840
1-866-213-1594