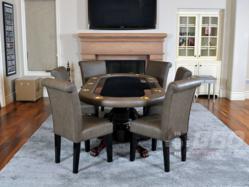 I'm sure it will increase fan activity and generate new fans to our page. Beyond that, the new applications we're adding will make it possible for our Facebook fans to follow us on our other platforms as well
College Station, Texas (PRWEB) May 07, 2013
The Texas Poker Store is about to introduce some new applications to their Facebook page, applications that will meet some of the requests of their current fan base as well as reach out to new fans and supporters.
Social media has been vital to the success of the Texas Poker Store from the beginning, as Jim Paris, owner of TPS is quick to point out. "Not long after we launched the online store, we also launched the Texas Poker Store blog," states Paris, "because we knew that we wanted to engage poker lovers with good content, and hopefully convert them into good customers."
At the same time, TPS set up its Facebook page and Twitter account and began running a variety of contests and campaigns, not only to attract new customers but also to ensure that their loyal followers kept coming back.
"One of the challenges with Facebook," said Paris,"is that once a fan or customer went in and participated in one of our contests, such as our monthly "Click-it-to-win-It," there was really no way for them to easily promote that to their own followers. "The new application is set up in a way that fans can participate and then invite their friends to play too," Paris said. "That's good for the fan base, and it's obviously good for us, too"
In the next few weeks, the Texas Poker Store will finally be introducing a new contest that many of their followers have been requesting: a poker-related photo contest with a prize.
"We've wanted to run a photo contest and award a $100 TPS giftcard as first prize for a long time," said Paris. "So many people have told us they'd like to upload their best poker face or poker game photos to our Facebook page, but I was never quite sure how to make that work," Paris said. " Our new photo contest application not only makes it simple to implement, but it allows fans to invite as many friends as they want to submit their own photos too, with the same opportunity to win."
"I'm sure it will increase fan activity and generate new fans to our page. Beyond that, the new applications we're adding will make it possible for our Facebook fans to follow us on our other platforms as well, because it connects to our TPS accounts on Twitter, Pinterest, Google+, Instagram, and more."
"We want our fans as well as anyone who may be looking for just the right poker table to be able to find the Texas Poker Store and engage with us wherever they travel through social channels. The more entertaining and inviting we can make it for them," adds Paris, "the more likely they are to become loyal customers."
About Texas Poker Store
Located in College Station - Bryan, Texas, the Texas Poker Store is a fully-stocked online poker store that offers 100 percent secured shopping and features hundreds of poker supplies. The Texas Poker Store was founded by Poker Lovers and Die Hard Players, Jim and Lynn Paris. We live in Texas, we play Texas Hold 'em and we welcome you to visit our store. You can find the Texas Poker Store at http://www.texaspokerstore.com, visit their blog at http://www.texaspokerstoreblog.com, and follow them on Twitter, FaceBook and on Pinterest.
Jim Paris
Chief Dealer
Texas Poker Store
302 N. Bryan Street
Bryan, Texas 77840
1-866-213-1594