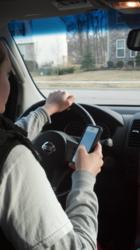 If a juvenile has been charged with this type of offense, we offer a free initial consultation on how we can potentially assist individuals in this situation.
Columbus, Ohio (PRWEB) March 13, 2013
The six-month grace period during which Ohio drivers were issued warnings for driving while texting ended on March 1, 2013. While texting is a secondary violation for anyone over 18 years of age, for juveniles, it is a primary violation. A secondary violation means it is a violation that can be enforced only if the vehicle was stopped for another offense. However, because it is a primary offense for drivers under 18, their vehicle can be stopped if they are observed using any wireless communication device while driving. Note that the Law applicable to juveniles is not limited to texting, (as it is for adults), but also includes the use of all electronic wireless devices while driving - thus for a juvenile, talking on a cell phone while behind the wheel will constitute an offense. Police have indicated that enforcement of these statutes will primarily be directed toward teen drivers.
Columbus, Ohio, Family Law Attorney, Brian Piper stated, "This law should increase the overall safety for the other drivers on the road. Juveniles are just beginning to develop their driving skills and they don't need to be further distracted by their electronic devices. However, losing their license for a full year is a substantial penalty and a conviction can impact insurance rates and can be a mark against a young driver's record. My office is working on representing new cases like this in the greater Columbus area. If a juvenile has been charged with this type of offense, we offer a free initial consultation on how we can potentially assist individuals in this situation."
Communities that have anti-texting laws that are tougher than Ohio's law will not be limited or superceded by the Ohio law; they will be able to continue to enforce their own ordinances. This law creates a minimum standard for all drivers in Ohio. When the new law was passed last year, Ohio became the 38th state to criminalize texting while driving, but it became the first state to take every cell phone, computer (including laptop, tablet, personal digital assistant, text-messaging device), or other similar wireless devices designed to communicate via voice, image or written word, out of the hands of teen drivers. The only exceptions to the law for juveniles are (1) the use was for emergency purposes, (2) the vehicle was stationary and outside all lanes of travel, or (3) that the device is a navigational device, and the juvenile did not use their hands to reprogram it while driving.
Adult drivers in Ohio, who are caught texting or using any electronic wireless communication device while driving, will face a maximum $150 fine for each offense. However, juveniles will not only face a $150 fine for the first offense and a $300 file for subsequent offenses, but in addition to the fines, they will also face a mandatory 60-day license suspension for the first offense, and a mandatory one-year license suspension upon subsequent convictions.
The Law Office of Brian S. Piper is a law office that handles all types of family law cases, including divorce, dissolution, and juvenile cases. You can contact the Law Offices of Brian Piper by visiting them on the web at http://www.brianpiperlawoffice.com or by phone at 614-895-5500
This article was distributed online by Found by k2dquared.com. You can learn more about Found by visiting them online at http://www.local-ranking.com.