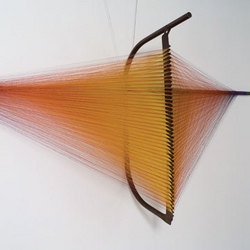 We represent a uniquely global group of artists, from Europe, Asia, Israel, Australia, North and South America and the UK, working in a wide range of textile techniques and materials
Wilton, CT (PRWEB) August 28, 2009
In October and November 2009 browngrotta arts will present The 10th Wave III, a multi-part examination of contemporary international art textiles and fiber sculpture. The 10th Wave III will present the work of more than 70 artists from across the globe. Dozens of works will be included, exhibited in a gallery setting, online and in print.
This comprehensive look at the field of fiber art will begin on October 9, 2009 at The 10th Wave III: In Person, an exhibition at Artifact Design Group in Wilton, Connecticut, which will extend until November 28, 2009. A major online exhibit, The 10th Wave III: Online, will follow at browngrotta.com on October 12th, Work from both exhibits will be documented in a full-color catalog to be published in October, The 10th Wave III: In Print.
"Art textile and fiber sculpture have surged in popularity in the last decade," explains Tom Grotta, president of browngrotta arts. "Attendance at recent tapestry, knitting, quilt and embroidery exhibits at the Metropolitan Museum of Art, the Museum of Arts and Design and the Whitney has been record breaking." The 10th Wave III will take a broad look at this diverse medium, through the work of a large group of accomplished artists, just as the movement achieves well-deserved critical and popular acclaim.
The artists in The 10th Wave work in a wide range of materials from stainless steel to rubber to recycled raincoats to tree bark and telephone books. They are experimenting with forms and techniques in novel and surprising ways, exploring new relationships among structure, design, color, and pattern. Among the artists that will participate are Mary Merkel-Hess from Iowa and Gyongy Laky from California, Sue Lawty from the UK, Ritzi Jacobi from Germany and Hisako Sekijima from Japan.
"We represent a uniquely global group of artists, from Europe, Asia, Israel, Australia, North and South America and the UK, working in a wide range of textile techniques and materials," says Grotta, "and we attract an international clientele." In the last year more than 60% of the visitors to the firm's website, browngrotta.com were from outside the US. "The 10th Wave III will offer viewers unprecedented exposure to this exciting medium," notes Grotta.
The name 10th Wave comes from a theory that waves come in series, increasing in size until the tenth and largest wave crests, and then the series begins again. The 10th Waves I and II were major survey exhibitions and catalogs produced by browngrotta arts in the 90s. Ten years ago browngrotta arts began to seek a larger audience for contemporary textile arts and sculpture - through catalogs, art fairs, media, the internet and co-partnered exhibits at museums, art centers and retail spaces.
About browngrotta arts: For more than 20 years, browngrotta arts has promoted contemporary textiles and fiber sculpture. The firm has published 37 art catalogs and placed art work in dozens of private and corporate collections in the US and abroad, as well as in the permanent collections of the Metropolitan Museum of Art, Museum of Arts and Design, the Art Institute of Chicago, the St. Louis Museum of Art, the Philadelphia Museum of Art, the Renwick Gallery of the Smithsonian Museum.
About Artifact Design Group:
Since 2001, Artifact Design Group has offered museum-quality signature furniture to the public and the trade. Artifact features the work of Gregory Clark, nationally recognized furniture and industrial designer. Clark is the creator of Formal Contemporary©, a limited edition series of signature pieces. Artifact Design Group is located at 66 Danbury Road (Rt. 7) in Wilton, Connecticut and open Monday through Saturday, 10:00 to 5:00. For more information about the Artifact Design Group call: 203.834.7757.
###