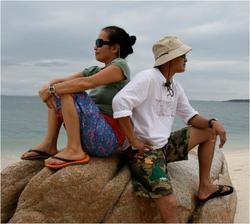 We are proud that so many people, including some pretty tough critics, enjoy our food.
San Francisco, CA (PRWEB) September 22, 2010
Twenty-five years ago Krittiya and Suraphol Meeriyagerd opened the first Thai House Express restaurant in San Francisco. They wanted to open a restaurant where people could enjoy authentic and traditional Thai dishes quickly and affordably. Today they operate two Thai restaurants on the corners of Larkin and Geary Streets and Castro and 19th Streets.
"When we came to San Francisco we decided to create a place where people could experience the unique and wonderful flavors we grew up eating in Thailand," said Suraphol Meeriyagerd, owner of Thai House Express. "We are proud that so many people, including some pretty tough critics, enjoy our food."
Indeed reviews are positive. Zagat refers to meals served at Thai House Express as "some of the best spicy, authentic cuisine this side of the Pacific." SF Weekly notes that "some of the best Thai food in San Francisco (or anywhere) is being dished up in this modest corner establishment."
Both Thai House Express restaurant locations are also excellent spots for people watching. Surrounded on two sides by windows that look out over Castro Street and 19th Street, the Castro Thai House Express restaurant is the perfect choice for a dinner "cruise" before a show at the world famous Castro Theatre, a night out at the Castro clubs, or lunch or snack while strolling or shopping in the neighborhood.
The Tenderloin location offers diners excellent views of the local color and goings on from the large windows facing Larkin Street.
"Thai House Express has been a feature in San Francisco neighborhoods for two and a half decades," said Paul Meeriyagerd, manager of Thai House Express. "A lot has changed over the years, but our food remains the same high quality food people talk about."
About Thai House Express Restaurant
Thai House Express specializes in dine-in, take-out, and catering of both traditional Thai street foods and in the Issan, or northeastern, style of Thai cooking, which is often tangy with lime and fiery with chiles. They are recognized for their food and service excellence by food critics from Zagat, SFGate, and SF Weekly.
For additional information about Thai House Express's history and Thai food, please visit Thai House Express at 599 Castro Street at 19th Street or their sister location at 901 Larkin Street at Geary Street or contact Paul Meeriyagerd at (415) 501-9181.
# # #