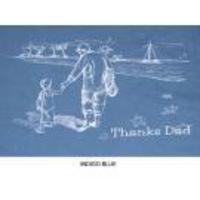 While we love sharing the message of parental gratitude through our apparel, the 'Thanks Dad' endeavor is not just about selling products
Vail, CO (PRWEB) March 12, 2009
There is no truer, longer-lasting bond than that of a parent and child. 'Thanks Dad' celebrates this special connection with a unique line of clothing and accessories that expresses fundamental emotions in innumerable heartfelt ways on Mother's Day, Father's Day, and every day throughout the year.
Born from a father's love for his father and his son, the 'Thanks Dad' apparel company is truly unique; a sincere and genuine expression of unconditional love articulated in images you'll be proud to wear. Parent and child walking along a beach, enjoying the ski slopes and basking in the sunset - respect and undying devotion to what truly matters in life are embodied in ways known only to each individual wearer.
'Thanks Dad' products are a distinctive gift idea for any parent - unparalleled in simplicity and exceptional in concept. "I was inspired to create 'Thanks Dad' following the death of my father in October, 2007," said CEO Tom Kiddoo. "Snapshots of our time together take me back to a place where my dad and I were the only people in the world that mattered. Whether on a crowded beach, ski slope or playground, my father and I seemed like the only souls around. These are the moments in time that I wanted to remember - the memories that often fade too quickly, the memories that 'Thanks Dad' has captured forever."
'Thanks Dad' T-shirts are made solely in the USA from 100% cotton. They are tagless and designed with an eye toward fashion and fit for any age wearer - from a small child to an extra-large adult. Available in a range of sizes in six inspiring colors, the narrow crew neck looks great on men, women and children alike.
"While we love sharing the message of parental gratitude through our apparel, the 'Thanks Dad' endeavor is not just about selling products," said Kiddoo. "Much more important is honoring my father, and all parents. I want to spread the messages of appreciation and the importance of parents spending time with their children to as many people as possible. This is my last hug to my own father."
For more information or to order 'Thanks Dad' products, please visit Thanks-dad.com, or join the 'Thanks Dad' Facebook group page.
###