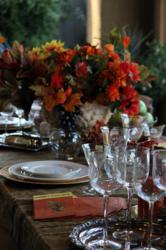 "Thrift Town's not your tame little vintage boutique — it's a massive beast of a thrift store, with a huge selection and dizzyingly low prices." SF Bay Guardian
Roseville, CA (PRWEB) October 31, 2011
Just because money is tight for many this holiday season, doesn't mean style has to be compromised. Thrift Town has put together two low cost, high style tabletop décor designs sure to wow guests on Thanksgiving that's guaranteed to stay within a small budget.
Two popular Thanksgiving tabletop decoration themes are Elegant Chic, and Country Comfort. Thrift Town's designer put together examples of both themes complete with six place settings, serving dishes, centerpieces, after dinner drink stemware and serving trays, for under $100 each. The bonus is most of the pieces used can easily be worked into any holiday party setting; Christmas, New Year's, Easter, etc.
Here's five easy thrifty entertaining tips:
1. Using candle light is a beautiful and inexpensive way to achieve ambience no matter the dinner theme. Thrift Town stores are full of votive candleholders, candelabras, and candlesticks. Votives average $0.49 each, candelabras and candlesticks usually under $4.00 each.
2. Using Mason Jars as cups are a fun way to bring your Country Comfort table together. At Thrift Town Mason Jars cost around $0.69 each.
3. When searching for the perfect tablecloth, don't limit selection by only shopping in the tablecloths bin. The ones used in the Elegant Chic display were curtains in their past life ($3.99 Thrift Town).
4. Thrift shopping is unique! Usually there's only one of everything, so if there isn't enough of the same pattern of plates or stemware, mix and match like colors and patterns. It brings an element of surprise and delight to your table. At Thrift Town plates and stemware prices average anywhere between $0.49 to $1.99 each.
5. A festive, fun, and free way to incorporate place cards on a table is by going outside collecting pinecones, writing out the guests name on a small rectangle cutout of cardstock, attaching it to the pinecone, and placing in the desired place on the table.
For additional creative and inspirational thrifty ideas, please visit Thrift Town's blog.
The included YouTube video is made up of 100% Thrift Town items found in one of our Sacramento, CA stores. Similar items can be discovered in any Thrift Town store, and though our crews follow consistent pricing guidelines, due the uniqueness of our items, pricing may vary based on the condition, quality and availability of each item. Thrift Town does its best to help consumers have successful shopping experiences in our award winning stores by ensuring our facilities are clean, bright, and organized. Thrift Town has different 15 store locations, in four western states. Each store is around 24,000 square feet, (the general size of a supermarket), and with 4,000 new items put out each day, there are many treasures just waiting to be found. "Thrift Town's not your tame little vintage boutique — it's a massive beast of a thrift store, with a huge selection and dizzyingly low prices." SF Bay Guardian
Thrift Town lives its vision statement of being committed to making a difference every day, raising nearly $85 million dollars for their charity partners by purchasing goods from their charity's household recycling programs. Thrift Town's clean, bright, and organized stores put out 4,000 new products daily, setting them apart in the thrift world as the premier thrift destination. Thrift Town is owned and operated by Norquist Salvage Corporation, which has spend nearly four decades dedicated to socially responsible recycling.
###