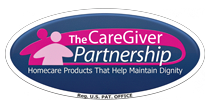 Homecare Products That Help Maintain Dignity
Neenah, WI (PRWEB) March 08, 2013
LAD Solutions is assisting The CareGiver Partnership in spreading the word about their incontinence products sample solutions, which provide customers an inexpensive and convenient way to determine the perfect product. When individuals find themselves in need of incontinence products, they are unsure of what type and style will fit their needs. This leads them or their caregivers to chose blindly and hope for the best. They typically buy a product, and discover a few days later that what they bought doesn't serve them in the way they had hoped. Often times, people purchase about 8 to 10 packages before they find something that works. This cycle is not only costly but frustrating, frequently resulting in losses in excess of $130.
Offering access to knowledgeable product specialists, The CareGiver Partnership not only provides samples for a minimum cost but also expert advice in regards to making a selection. An older style form of customer service, these experienced caregivers are available by phone to answer questions and guide individuals toward the product that is right for them. Customers can simply place a call, answer a few questions, and have knowledgeable staff provide suggestions in regards to products that might be best. They then place an order for the samples, pay the $3.49 handling charge and the product will be on its way that very day.
If the style and type of incontinence product chosen is found to be unfitting, customers can simply call again or visit their website and order another sample. It's that easy. Now instead of running to the store and unknowingly choosing a product, forking out upwards of ten dollars, and finding a day later that it isn't something that will work, individuals can sit home, place an order, and try the product for free. The CareGiver Partnership truly offers the most convenient way of dealing with an inconvenient dilemma. With over 500 products to choose from and over 100 products with sample offering, they also offer a wide variety of choices that can't be found at any department store or pharmacy.
About the Company:
The CareGiver Partnership began in a way similar to what incontinence patients and their family experience everyday. When founder, Lynn Wilson was taking care of her father, he too was in need of incontinence products and both of them had no idea which one to choose. Because of this Lynn spent time running to the store to purchase a different selection due to style, sizing, or absorbency issues. She had tried to get help from store personnel but not even the pharmacist was able to lend a knowledgeable helping hand. That is when she decided to begin an organization that would provide a more simplistic way for people just like her and her father to find a product that would work well; and with effort and dedication The CareGiver Partnership was born.