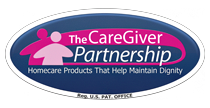 Homecare Products That Help Maintain Dignity
Neenah, WI (PRWEB) March 24, 2013
One of the essential elements of managing incontinence is taking care of the skin to prevent irritation. After any elimination occurs, it is vital to clean the skin with a washcloth and apply cream to keep away the germs. The CareGiver Partnership, known for its incontinence product range, are providing an opportunity of winning a case of TENA flushable washcloths and wash cream, which have combined value is of $122.98. Promotions for the giveaway are being handled by LAD Solutions.
The services provided by The CareGiver Partnership are of special interest for the homebound, including the elderly, where incontinence products of the right size and requirement are an absolute necessity for comfort. The company offers samples prior to sale, which can be checked whether or not they are suitable. It is also possible for consumers to purchase diagnostic items like meters and test strips for diabetes and thermal therapy for those people who are suffering from arthritis.
The company is also appreciated for its ability to deliver quickly. They offer free shipping for purchases of $50 or more.
Apart from the material products, there is a CareGiver resource which provides helpful articles, tools for independent living, personal safety guide, and a search tool for finding the best senior resident facility in the vicinity of the client.
One of the specialties of the company is that it is being run by a group of women who are well trained in this domain. With nearly all of their staff having served as caregivers, they are ideally suited for offering advice. Furthermore, women with incontinence issues are more likely to be comfortable talking to women. The range of incontinence products that CareGiver Partnership has is quite diverse and ranges over 500 items.
As for their monthly give away of TENA products, the washcloths contain 12 soft packs of disposable, adult-size, flushable washcloths (45 pieces). The product is safe to be used for septic systems and toilets. The wash cream contains a formula that cleanses, moisturizes, and protects to leave healthy skin.
The monthly giveaway titled 'Get Back Into Life' was created by the company to raise attention in the community, and the items up for grabs will help senior citizens in making their lives better.
Entering the giveaway contest is easy. Those interested in participating have to write a short statement about how they, or anyone they know, are going to benefit from winning the prize. The statement can be sent through mail or e-mail. More information about ways to enter and the giveaways are available at the 'Get Back Into Life' giveaway page.
About CareGiver Partnership: CareGiver Partnership has a well-established business in Neenah, Wisconsin when it comes to home health care supplies. Providing incontinence products, as well as similar health care items, their core competence is fast delivery and top notch products right at the doorstep of customers. Built on the assistance of knowledgeable product specialists, they provide over four hundred items in this range. Owned by Lynn Wilson, the company has made a name for its quality service.