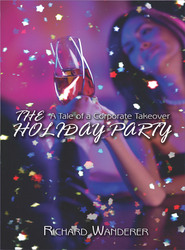 Kirkus Discoveries, in reviewing it stated it is, "A sharply observed tale of workplace tyranny … The author clearly knows his territory."
(PRWEB) August 19, 2010
Thirty-four years ago, Paddy Chayefsky's brilliant movie, NETWORK, became an epic classic. His deranged anchor character, Howard Beale, had whipped up the American public giving them reasons why "they had a right to be mad as hell" and shouldn't take it anymore. Unfortunately, many of the reasons Beale gave them to be "mad as hell" about in 1976, when the film was released, are with us again in 2010. Namely, a recession, problem banks, high unemployment, an unpopular war and a mindset of "for profit only" being a corruptible force in many corporations.
The recent event of an airline attendant quitting his job, in a highly unconventional manner, cursing out a passenger who he felt had been rude to him over a public address system, and escaping from the plane after it landed by activating the inflatable slide, has made him a folk hero to many. Rightly or wrongly, a number of people thought his conduct brought to mind the anger the NETWORK character, Howard Beale, tried to incite in people.
In a recent interview, author, Richard Wanderer, was asked if one of the characters in his book, The Holiday Party (A Tale of a Corporate Takeover), Forest Green was this kind of a folk hero, he said, "Forest Green had every right to be 'mad as hell', but he was still a gentleman about the way he took action. He was more like a Frank Capra type of person – taking steps to seek justice. Forest Green was much like thousands of loyal American employees who have given their total efforts and their working careers into helping their employers successfully build strong businesses only to find, one day, that it was collapsing around them. His company, the company he had helped to build, had been taken over by a heartless draconian regime of cost-cutting, micromanagement, with longtime staffers abruptly being fired and ejected from the company. Forest Green put his own job in jeopardy and showed courage by going above his immediate incompetent boss, placed there by the takeover corporation, to the top of the takeover company. He tried to set things straight. Forest acted responsibly in acting out the 'mad as hell' concept."
In the novel, which is set in New York City, Los Angeles and Washington, DC, the reader follows the lives of employees of an ethical and benevolent, family owned national magazine when it is taken over by a huge media conglomerate. As a result of the change in management, the door is now opened to workplace predators, poisonous office politics and a downward trend in business. To add some extra "bling" to his novel, the author researched the Wicca religion and elements of it are found in the storyline. Its website is http://www.theholidayparty-ataleofacorporatetakeover.com
Recently given the prestigious designation of "Editor's Choice" by its publisher and Kirkus Discoveries, in reviewing it stated it is, "A sharply observed tale of workplace tyranny … The author clearly knows his territory." Anita Finley a columnist for the Miami Herald and also the publisher of Boomer Times & Senior Life, in her review has stated, "it is a real page turner."
The author, Richard Wanderer, is a lawyer and a member of the California Bar. He has also spent many decades of his life working in the advertising sales departments of major national magazines and newspaper chains in New York City and Los Angeles. His novel, THE HOLIDAY PARTY (A Tale of a Corporate Takeover) is being sold at Amazon.com, via special order at major bookstores and is now on Kindle, too.
http://www.theholidayparty-ataleofacorporatetakeover.com
# # #