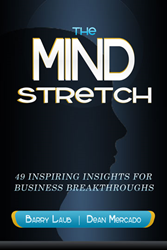 The Mindstretch is meant to be an evolving stimulator. While the disciplines introduced within are designed for business enhancement, each insight will apply to some aspect of one's business and personal life.
Long Island, NY (PRWEB) September 27, 2012
On Tuesday, October 23, 2012, fellow entrepreneurs and co-authors Barry Laub and Dean Mercado are formally releasing their long-awaited business book titled The Mindstretch… 49 Inspiring Insights for Business Breakthroughs.
The book explores 7 essential disciplines for business (Envision, Believe, Plan, Lead, Communicate, Market, and Sell) providing 7 insights for each. The authors also provide a system called the "Power of SEVEN" as a stimulus to assist the reader in drawing the most value out of each insight. The intent is to take the reader deep... expanding the confines of traditional thinking... into a state of awareness which the authors call "The Mindstretch".
"This is not your traditional business book" states Dean Mercado. "Nor is it for the meek. After years of coaching business owners, what was missing became clearly evident… and it was not what most self-proclaimed gurus profess."
Barry Laub adds, "Business owners have lost sight of what is not only important to themselves, but the intended consumer as well. This disconnect has resulted in businesses failing and consumers not trusting."
The Mindstretch will be available on the authors' web site https://TheMindstretch.com as well as Amazon.com and other popular distribution channels.
The Authors
From their very first conversation together, co-authors Barry Laub and Dean Mercado knew they were destined to work together. Separated in age by two decades, they resonated on a deeper level than either of them had experienced professionally with others before.
With a combined 60 plus years of studying, evaluating and testing success principles and human behavior, Laub and Mercado observed gaps which impede success... the pieces of the puzzle that were missing. Thus, "The Mindstretch" was born.