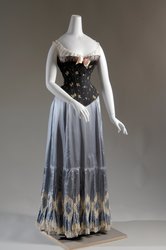 The proximity of clothing to the body is inherently sensual, conveyed through the strategic interplay of exposure and concealment
Ferndale, WA (Vocus) October 14, 2008
Seduction is traditionally defined as an act of temptation and enticement, often sexual in nature. Throughout history, men and women have utilized seductive clothing to enhance physical attractiveness, as well as to convey a sense of power and social status. The Museum at FIT presents "Seduction," the first chronological survey to explore 250 years of sexuality in fashion.
Featuring at least seventy looks and forty accessories, "Seduction" examines the complex relationship between seduction and clothing, presenting a visual history of sexuality, moral standards, and social norms - all observed through the prism of fashion. Examples include a black satin Belle Époque corset, red satin Manolo Blahnik stilettos, and a skintight black leather evening gown by John Galliano for Christian Dior.
"The proximity of clothing to the body is inherently sensual, conveyed through the strategic interplay of exposure and concealment," said Colleen Hill, curator of "Seduction." The exhibition's earliest example of this is a gown from circa 1785, in which an open-front bodice lends an air of undress without actually revealing the body. Menswear from this period emphasizes the equally important role of seduction in male dress, as seen in a lavishly embroidered waistcoat.
The nineteenth century, particularly the Victorian era, introduced changing ideals of beauty and the increased distinction between male and female dress. Dresses from this outwardly modest era indicate subtle displays of sexuality. The flirtatious swing of a crinoline, for example, offers tantalizing glimpses of a woman's ankle. A sheer, white cotton lingerie dress by Jeanne Paquin, circa 1900, provides an early example of outerwear inspired by intimate apparel.
The first half of the twentieth century saw increasingly daring forms of seductive dress, best exemplified by shockingly spare flapper dresses. Sensuously draped silk gowns, represented in examples by Jane Régny and Robert Piguet, appear almost as extensions of the flesh.
A satin and velvet evening gown by Christian Dior, circa 1955, defines the ladylike yet highly sexualized fashions of the post-war era, while Cristobal Balenciaga's subtly revealing, feminine cocktail dress of the late 1950s embodies the allure of black lace.
The cultural revolution of the 1960s led to more brazenly sexual styles than ever before for both men and women. Menswear from this period is represented by a form-fitting, wildly patterned men's ensemble by Tseklenis, complete with hip-hugging velvet trousers. A Rudi Gernreich mini dress with strategically placed, clear vinyl inserts exemplifies the radical new exposure of the body, while a silk jersey, halter-neck gown by Halston defines the glamorously sexy approach to fashion of the next decade.
By the 1980s and 1990s, attitudes toward the display of women's bodies had shifted dramatically, and female sexuality was increasingly considered a sign of strength. Designers such as Jean-Paul Gaultier, Vivienne Westwood, and Azzedine Alaïa took the concept of underwear-as-outerwear to daring new extremes that are still being furthered and refined today.
Contemporary fashion is quite varied in its display of sexuality. Feminine, romantic styles by designers such as Olivier Theyskens (formerly of Rochas) prevail, focusing on beautiful fabrics and sensuousness rather than on exposure of skin. Menswear has also renewed its place in seductive fashion, as seen in an edgy, body-revealing version of the traditional men's suit by Costume National. Shoes and lingerie are prominently featured from designers such as Christian Louboutin and Jean Yu.
"Seduction" is on view from December 9, 2008 through June 16, 2009 in the Fashion and Textile History Gallery at The Museum at FIT.
The Fashion and Textile History Gallery presents biannual exhibitions examining aspects of the past 250 years of fashion. Exhibitions are curated exclusively from The Museum at FIT's extensive collection.
A FASHION MUSEUM
The Museum at FIT is the only museum in New York City dedicated solely to the art of fashion. Best known for its innovative and award-winning exhibitions, which have been described by Roberta Smith in The New York Times as "ravishing," the museum has a collection of more than 50,000 garments and accessories dating from the 18th century to the present. Like other fashion museums, such as the Musée de la Mode, the Mode Museum and the Museo de la Moda, The Museum at FIT collects, conserves, documents, exhibits, and interprets fashion. The museum's mission is to advance knowledge of fashion through exhibitions, publications, and public programs. Visit http://www.fitnyc.edu/museum.
The museum is part of the Fashion Institute of Technology (FIT), a college of art and design, business and technology educating more than 10,000 students annually. FIT, a college of the State University of New York (SUNY), offers more than 43 majors leading to the AAS, BFA, BS, MA, and MPS degrees. Visit http://www.fitnyc.edu.
The Couture Council is a membership group of fashion enthusiasts that helps support the exhibitions and programs of The Museum at FIT. The Couture Council Award for Artistry of Fashion is given to a selected designer at a benefit luncheon held in the Rainbow Room every September. For information on the Couture Council, call 212-217-4532 or e-mail Couturecouncil @ fitnyc.edu.
MUSEUM HOURS
Tuesday - Friday - noon-8:00 pm
Saturday - 10:00 am-5:00 pm
Closed Sunday, Monday, and legal holidays
Admission is free.
Cheri Fein
Acting Director of Media Relations
212.217.4718
# # #