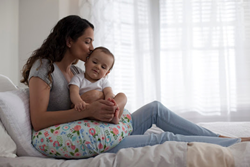 "We are grateful for the ongoing work that First Candle does to educate new and expectant parents on the importance of providing a safe sleep environment for their baby," says Nancy Bartley, CEO, The Boppy Company
GOLDEN, Colo. (PRWEB) September 20, 2018
Every year, approximately 3700 infants die due to sleep-related deaths, with the majority of these being preventable if the Safe Sleep Guidelines developed by the American Academy of Pediatrics had been followed.
The new program is focused on sharing these life-saving guidelines with bloggers, influencers, and other key outlets to help end Sudden Infant Death Syndrome (SIDS) and other sleep-related infant deaths.
"We are grateful for the ongoing work that First Candle does to educate new and expectant parents on the importance of providing a safe sleep environment for their baby," says Nancy Bartley, CEO, The Boppy Company, "As a long-time brand partner with First Candle, we are honored that Boppy is an inaugural recipient of First Candle's Safe Sleep Guardian badge. We are committed to continuing to only show photos of babies in safe sleep environments."
Boppy® has been an advocate for infant's safety for the last three decades, offering parents innovative nursing and play solutions alongside helpful parenting resources.
To join Boppy® as one of First Candle's Safe Sleep Guardians, interested parties must commit to only posting images of babies in safe sleep situations. For more details on what types of photos qualify, visit First Candle's website.
If you are interested in becoming a Safe Sleep Guardian Influencer, please reach out to Leah@chicexecs.com. Those who are signed up and approved will receive a Boppy® Newborn Lounger and Boppy® Pillow! Participants will be designated a Safe Sleep Guardian and will earn a badge to display on their website as well as recognition in social media posts and on the First Candle site.
About First Candle
Boppy has maintained a long-time partnership with First Candle, the leading national non-profit organization that is dedicated to the education, advocacy and research of Sudden Infant Death Syndrome (SIDS). First Candle and Boppy are once again championing a campaign to spread awareness, eliminate stillbirth and help educate parents on safe sleep practices for baby. The campaign includes advertising, safe sleep practices on boppy.com and informational tags on Boppy® Products.
About The Boppy Company
Founded in 1989, The Boppy Company is the pioneering leader in creating comfortable and supportive products for parents and babies. It all started with the iconic, beloved and award-winning Boppy® Feeding & Infant Support Pillow, a must-have staple for all nurseries. Boppy's brand essences – beloved, bonding, comfort, fashion, safe, simple and versatile – remain at the heart of the business and drive product innovation. Nearly three decades later, Boppy has expanded its product line to include carriers, teething solutions, pregnancy pillows, breastfeeding accessories, baby loungers, travel products, baby seats and more. Boppy offers Support for All Momkind® throughout the journey of parenting. For more information, visit http://www.boppy.com. The Boppy Company is a wholly-owned subsidiary of The Artsana Group, http://www.artsana.com.
For more information or media inquiries, Leah(at)teamchicexecs.com