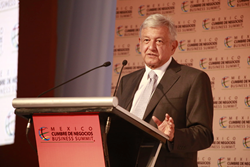 "Corruption is not a part of Mexican culture."- President elect Andres Manuel Lopez Obrador
GUADALAJARA, Mexico (PRWEB) October 24, 2018
During the 16th edition of the Mexico Business Summit, an annual three-day high-impact platform that analyzes the crucial challenges that shape the future of Mexico in the global context, leaders and experts of the business world met to discuss the country's economic prospects and the outlook for its relationship with its key partners.
In the course of more than thirty sessions, the participants of the Mexico Business Summit identified some sixteen priority areas for action that the new administration should address to be able to achieve the ambitious it has set for its mandate. Out of these sixteen, the participants proposed the most urgent top five during the final session:
1) To maintain continuity by keeping projects started by previous administrations.
2) To increase sentences for corruption crimes, to extend the statute of limitations and to ban guilty individuals form public office.
3) To promote programs that motivate companies to implement anti-corruption policies that encourage whistleblowing and increase sanctions.
4) To introduce e-government to speed up processes and enhance transparency.
5) To implement tax incentives to promote R&D and innovative projects.
President-elect Andrés Manuel López Obrador spoke at the Mexico Business Summit about three general policies for a wider implementation of programs that support the people:
1) To eradicate corruption and implement austerity measures. This is possible because "corruption is not a part of Mexican culture."
2) To reduce current government spending and increase government investment. Greater investments mean more allocated funds for other matters, which will help avoid increasing taxes on a large scale.
3) Cuts in public spending and austerity measures should boost the country's economic growth so that Mexico can leave behind the period of 2%-annual-growth stagnation. If jobs are created, well-being and sustained economic development will follow. The president elect's goal is to achieve a rate of at least 4% economic growth
About the Business Summit
Mexico Business Summit is an independent, nonpartisan platform that gathers political and business leaders, as well as opinion leaders and media personalities from Mexico and abroad, to discuss the future of the region within a global, changing context.