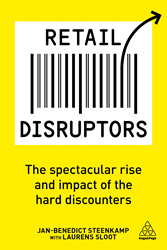 CHAPEL HILL, N.C. (PRWEB) October 30, 2018
The U.S. grocery market is the biggest in the world and it's under competitive threat from "hard discounters" like Aldi, Trader Joe's, and now Lidl.
Hard discounters are the source of the biggest disruption in grocery retailing in half a century. Whenever they enter a market, grocery retail is profoundly and irrevocably changed, and their sites are set on the U.S.
A new book is the first to explore this upheaval: "Retail Disruptors: The Spectacular Rise and Impact of the Hard Discounters" (Kogan Page, 2018) by Jan-Benedict Steenkamp, Knox Massey Distinguished Professor of Marketing at the University of North Carolina Kenan-Flagler Business School, and Laurens Sloot, Distinguished Professor of Retail Marketing at the University of Groningen in the Netherlands. They are leading authorities in retail strategy, private labels, branding and hard discounting.
"Hard discounters are the only players that brought mighty Walmart to its knees, not in one major market but in two: Germany and Great Britain," said Steenkamp. "Is America next? Aldi is expanding its U.S. network by 60 percent to 2,500 stores in 2022, second only to Walmart and Kroger. And everywhere Lidl enters a market, prices drop steeply."
Hard-discount retailers offer basic goods and daily necessities at the lowest possible prices – usually 50-60 percent lower than national brands – while maintaining high-quality standards. "Through a sophisticated sourcing and assortment strategy, they have achieved operational efficiencies that even Walmart cannot dream of," says Steenkamp.
"Underestimating this new threat has led to dramatic decreases in the market share of conventional retailers and brand manufacturers in market after market – first in Germany, followed by France, the Netherlands, Belgium, Poland, the U.K., Italy and Australia," the authors write. "As part of their aggressive strategy of international expansion, hard discounters have set their sights on the ultimate prize: the U.S."
Hard discounters are having phenomenal success in many countries, says Steenkamp. "And when it comes to innovation, hard discounting is the biggest in brick-and-mortar retailing in the past 25 years."
"Retail Disruptors" analyzes the discounters from an international perspective to raise awareness of who is under threat and what they can do about it, says Steenkamp. "We offer a message of hope, but competing is going to be challenging."
Using data and providing actionable strategies, the authors address:

The secrets of hard discounters' success
The business model for profitability at low price points
Specific strategies used by Aldi, Lidl and Trader Joe's
The impact on key markets in Germany, U.K., Australia, Poland, Turkey and the U.S.
How retailers can respond
What this means for brand manufacturers
As they redefine value for money, hard discounters will remain a permanent fixture in grocery retail, says Steenkamp.
"The ultimate winner is the consumer," he says. "Once hard discounters become a meaningful market presence, conventional retailers respond by dropping their prices – so even consumers who don't shop at hard discounters benefit from their market success." In 2018 alone, U.S. consumers save $20-30 billion dollars on their grocery purchases because of the success of hard discounters.
About the University of North Carolina Kenan-Flagler Business School
Consistently ranked one of the world's best business schools, UNC Kenan-Flagler offers a broad range of programs – Undergraduate, MBA and Master of Accounting, PhD and Executive Development – and extraordinary, real-life learning experiences. Faculty demonstrate unparalleled dedication to students' learning and a commitment to world-class research that addresses critical business challenges. Contributing to the School's thought leadership is the Frank Hawkins Kenan Institute of Private Enterprise, which promotes innovative, market-based solutions to vital economic issues. UNC Kenan-Flagler's collaborative culture is rooted in core values that date back to its founding in 1919, and graduates are renowned as effective, principled leaders with the technical knowledge and leadership skills to deliver results in the global business environment.