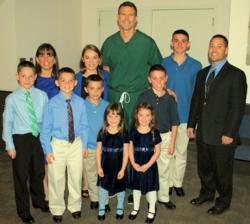 The Doctors described Goat Milk Stuff as a bustling beauty business.
Los Angeles, CA (PRWEB) November 30, 2012
TV's hit national daytime talk show, The Doctors, showcased the Jonas family and the healthy natural goat milk soaps that they make on their Indiana farm and market online at GoatMilkStuff.com.
PJ and Jim Jonas and their eight children, ages 5 to 15, work together and have built Goat Milk Stuff into a successful family business offering goat milk soaps and more. Each product is chemical free and good for your skin.
The Doctors featured the family on set with Dr. Travis Stork, who described Goat Milk Stuff as a "bustling beauty business."
The TV segment featuring the Jonas family is also posted on The Doctors website, which reports that "Goat's milk is not only easy to digest and allergen-free, but it also has moisturizing properties that are great for the skin."
The Doctors said, "For the Jonas family in rural Indiana, goat's milk has turned into a bustling beauty business. In addition to making soaps, the Jonas family business, Goat Milk Stuff, produces lotions, lip balms, sugar scrubs, soy candles and more."
Dr. Travis, as the host of the Emmy Award winning daily show is known, interviewed PJ, Jim and the eight Jonas children on the shows set and also showed a video of their life on the farm.
According to Mom PJ, each of the eight children feels a sense of accomplishment when participating on tasks ranging from milking goats to working in the office to helping build the Goat Milk Stuff business.
Dr. Travis asked PJ to explain to The Doctors audience and viewers what goes into the family's goat milk soaps. She said, "Other than the goat's milk, we add oils and fragrances so it smells really good. There are a lot of things in goat milk that naturally occur, such as vitamin A and selenium and all of those things help your skin and nourish it."
In addition to discussing the family and the healthy Goat Milk Stuff soap and other products, Emery, who is 12 years old and the third oldest of the Jonas children, showed Dr. Travis how to milk a goat in a segment that had the audience laughing. Emery milks eight goats twice every day on the farm and showed him how it is done.
PJ, a former engineer, and Jim, a former middle school science teacher, conduct homeschooling classes for the children, who study math, science, history, Bible and literature, among other subjects.
Goat Milk Stuff offers a variety of chemical-free and all-natural goat milk soaps, lotions, bath bombs, lip balms, lotions and laundry soap, as well as all-natural soy candles in a number of scents, each made by the Jonas family and available at GoatMilkStuff.com.
The Jonas business maintains an active social media presence with a growing following on Facebook.com/GoatMilkStuff, YouTube.com/GoatMilkStuff and at Twitter.com/GoatMilkStuff.
Online at http://www.GoatMilkStuff.com, the Scottsburg, Indiana company makes and markets all-natural Goat Milk Stuff™ products including goat milk soaps, lip balms, lotions, bath bombs, laundry soap, soy candles and more. For media, contact Brian Dobson at DobsonPR.com or BD (at) DobsonPR.com.