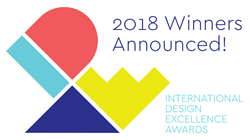 "For anyone who is a maker, who is building something, it's the ultimate achievement to win an IDEA," says CEO and founder of fuseproject, Yves Béhar, IDSA. "IDEA is the award by designers, for designers."
(PRWEB) August 16, 2018
The Industrial Designers Society of America (IDSA) announces the International Design Excellence Awards (IDEA) 2018 winners. The IDEA preview gallery proudly displays all of the Gold, Silver, and Bronze winning designs across all categories. The level of each winner will be unveiled live at the IDEA Ceremony and Gala on Sept. 19 at the National WWII Museum in New Orleans, LA.
The IDEA program has represented the pinnacle of design achievement for 38 years. "For anyone who is a maker, who is building something, it's the ultimate achievement to win an IDEA," says CEO and founder of fuseproject, Yves Béhar, IDSA. "IDEA is the award by designers, for designers."
The categories for the 2018 program include Automotive and Transportation, Branding, Consumer Technology, Home, Medical and Health, Service Design, Student Designs and more.
The public is invited to view the gallery then vote for their favorite design. The design with the most votes will receive the People's Choice Award. IDSA.org/awards/idea/preview
Tickets for the IDEA Ceremony and Gala can be purchased on the International Design Conference website and included in most conference registrations. InternationalDesignConference.com/ Online registration is open through Sept. 10, 2018.
About IDSA
The nonprofit Industrial Designers Society of America (IDSA) is one of the oldest and largest industrial design associations in the US, representing thousands of members in dozens of Student Chapters, Professional Chapters and Special Interest Sections in the US and internationally. IDSA sponsors the annual International Design Excellence Awards® (IDEA), one of the world's most prestigious and rigorous design competition. The Society leads National Industrial Design Day annually on March 5. IDSA hosts events including the annual International Design Conference, District Design Conferences and niche conferences, bringing together some of the biggest names and brightest minds in industrial design and related fields. Learn more at IDSA.org.