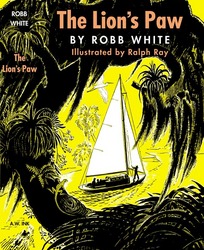 Top 10 Most Sought After Out-of-Print Books
New York, NY (PRWEB) December 9, 2008
Children's classic adventure novel "The Lion's Paw", one of the most sought after out-of-print books of all time, is back in print through the self-publishing efforts of the author's family. "The Lion's Paw" is the first of a series of books written by popular children's novelist Robb White to be published by the family's own publishing imprint, A.W. INK, Inc.
"The Lion's Paw" is an uplifting story of brother and sister orphans who team up with a boy whose U.S. Navy Lt. father is MIA during WWII. The three children are chased on a thrilling adventure steering a sailboat hundreds of miles through the inland waterways of Florida - from the Atlantic Coast all the way to the Island of Captiva in the Gulf of Mexico - keeping one step ahead of the Coast Guard, bounty hunters, alligators and tropical storms that threaten to deprive them of their quest for freedom. "The Lion's Paw" is a timeless story of children learning to blend their skills and strengths, overcome obstacles, work as a team and trust each other.
"The Lion's Paw", originally published in hardcover by Doubleday in 1946 and in paperback by Scholastic in 1954, has been out of print for many years. Copies of the Doubleday and Scholastic editions go for hundreds of dollars on eBay, Alibris and other rare book selling websites, and "The Lion's Paw" has been listed as one of the "Top 10 Most Sought After Out-of-Print Books" year after year by Bookfinder.com.
Murray Weiss, President of Literal Media, which manages the literary works of Robb White, said, "As many children/young adult publishers are more focused on the 'next Harry Potter', the family of Robb White has taken matters into their own hands by republishing 'The Lion's Paw' in hardcover through their own self-publishing imprint this fall. The book has been cherished by several generations of kids who by now have their own children and grandchildren, who now have the opportunity to read 'The Lion's Paw' themselves." The book has received rave news reviews:

Robb White's widow, Annie White said, "Reintroducing 'The Lion's Paw' to generations of old and new readers is a celebration of love for our family and we hope to see the book back in schools and public libraries across the country. My daughter, Leslie and I receive e-mails from many readers who proclaim 'The Lion's Paw' to be their favorite book ever! Many fans claim the book encouraged their desire to read, and thus had a huge positive impact on their lives. We believe 'The Lion's Paw' will become a terrific family movie."
The new hardcover edition of "The Lion's Paw" with a handsome dust jacket featuring the original illustrations of Ralph Ray is currently available at A.W. INK's website http://www.thelionspaw.org, via Ingram, and at local bookstores.
Robb White is best known for the two-dozen adventure novels written for younger readers over a distinguished forty-year career as a leading children's author, from The Nub (1935) to his last work Fire Storm (1979) and was also well-known for his writings for the television series Perry Mason and his collaboration with horror film producer William Castle, writing the screenplays for such landmark films as "House On Haunted Hill", "Thirt13en Ghosts" and "The Tingler". For additional information or to schedule interviews please contact Murray Weiss. Watch A.W. INK's website http://www.thelionspaw.org for the next Robb White title to be published.
Literal Media manages thousands of literary works written by a number of prominent authors including the work of Robb White, Damon Runyon ("Guys and Dolls"), Cornell Woolrich ("Rear Window"), Shirley Jackson ("The Lottery") and focuses on adapting such works for feature film, television series, theatrical stage productions and other licensing opportunities.
CONTACT:
Murray Weiss, President
Literal Media
212-490-1414, ext 130
http://www.literalmedia.com
###