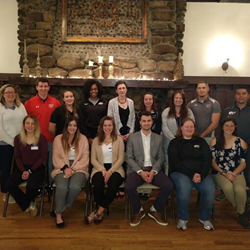 MILL HALL, Pa. (PRWEB) May 02, 2019
On April 25th, The Pennsylvania Athletic Trainers' Society (PATS) Young Professionals Committee (YPC) hosted a Northcentral Regional CEU and Social event. The event was sponsored by Geisinger Orthopedics and Sports Medicine. The continuing education (CEU) event entitled, "Prevalence of Insomnia and Sleep Disturbance in student athletes" was presented by Matthew Barkley, MS, LAT, ATC. Mr. Barkley is an athletic trainer at Lock Haven University and has aided Dr. Rachel Daltry (WCU), Dr. Yvette Ingram (LHU), and Dr. Lindsey Keenan (WCU) in their research pertaining to several mental health surveys implemented after the PSAC mandated mental health screenings for their student-athletes.
The presentation addressed why normal sleep was important, the effects of sleep and its effect on athletic performance, as well as risk factors related to insomnia and the importance of the findings for clinicians.
The CEU event was followed by a social function at Haywood's on the Green in Mill Hall, PA and allowed several Athletic Training Students from Lock Haven University and West Virginia University to connect with Certified Athletic Trainers in the Northcentral Region. The PATS YPC would like to thank Geisinger Sports Medicine for its generosity in sponsoring this event.
The PATS YPC will have its next Social at the 2019 PATS Symposium in Gettysburg, PA. The event will be held on Thursday, May 30th following the Student Quiz Bowl. All PATS attendees are encouraged to join the YPC and PATS HOF/VIP members for this networking event.
For more information regarding this topic or to schedule an interview with PATS President George Roberts Med, LAT, ATC, please contact Linda Mazzoli MS, LAT, ATC, PATS Executive Director at patsexecutivedirector@gopats.org
The Pennsylvania Athletic Trainers' Society, Inc. is a progressive organization of licensed health care professionals who work under the direction of a licensed physician. Our society continues to increase public awareness and education regarding Athletic Trainers and the Athletic Training profession while serving as the premier source of information for public safety, injury and illness prevention, early intervention, patient care, and healthcare delivery for the physically active in the Commonwealth.
"The Keystone to a Healthy and Physically Active Life"