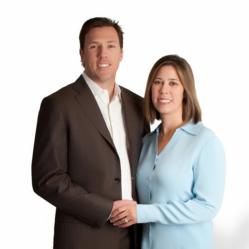 When it comes to professional mentors, we looked for people with success in the area in question. ~ Josh and Lisa Lannon, The Social Capitalist
Scottsdale, Arizona (PRWEB) March 30, 2013
With over 10 years of experience building successful businesses using the Rich Dad principles, becoming Rich Dad Advisors, and as authors of "The Social Capitalist," Josh and Lisa Lannon will be at two Rich Dad events on April 11, 2013, (Tempe, Arizona) and April 20-21, 2013 (Edmonton, Canada.) The Rich Dad Advisors are a team of business, wealth creation and wealth protection experts assembled by Robert Kiyosaki (Best Selling Author, "Rich Dad Poor Dad").
The first Rich Dad event is a book signing, and the second is a Fast Track event. On April 11th, anyone can attend this kick-off event for Robert Kiyosaki's new book, "Why "A" Students Work for "C" Students" (release date is April 7, 2013). This book signing, by Robert Kiyosaki will be at Changing Hands bookstore in Tempe, AZ, at 7:00pm. The Canada Rich Dad Event on April 20-21st is a Fast Track event, and you can register here. http://www.richdad.com/rich-dad-advisors/events.aspx
Along with other Rich Dad Advisors, Ken McElroy, Andy Tanner, Blair Singer, Tom Wheelwright and Garrett Sutton, Josh and Lisa Lannon will speak in Canada about finding your why and building a great team. The importance of having a "why" in doing what you do and investing with purpose are key topics. After Josh became sober, his father gave them the Rich Dad book, "Choose to Be Rich." This gift led the Lannons to open Journey Healing Centers (accredited rehabilitation centers), become Rich Dad Advisors, and honorary members of the YPO (Young Presidents Organization).
In addition to building Journey Healing Centers (private drug and alcohol treatment centers), Lisa Lannon is the Founder of Brooke Property Management and an investor in apartment complexes with holdings of 1800 units, residential properties and other investments. The positive cash flow from these properties has allowed the couple to never take a paycheck from Journey Healing Centers and continually give back to the community.
In addition to sharing success secrets in their new book, "The Social Capitalist: Passion and Profits - An Entrepreneurial Journey," the Lannons are international speakers who present with the Rich Dad Advisor team to investors, entrepreneurs, small business owners and anyone who wants to learn.
In the book, the Lannons share, "In a lot of ways, we started behaving like the lead character of Forrest Gump, Tom Hanks' simple-minded man who makes his way through life and into many of the most memorable moments in history by just putting one foot in front of the other, following his own gut and the wise words of mentors. We started doing the same thing. We asked people we respected, "What would the next step be?" or, "How did you do that?" They'd tell us their experiences and we'd follow their advice, similar Forrest Gump." Some things worked, and others didn't.
When seeking advisors, Josh and Lisa Lannon recommend, "When it comes to professional mentors, we looked for people with success in the area in question. We consulted people with proven experience, and not just opinions to spare. A major mistake people often make is by asking the wrong person for advice. We would not ask a three-time divorced individual for marriage advice, or an employee about becoming an entrepreneur. Choose your advisors carefully."
To purchase a copy of "The Social Capitalist" on Amazon, visit http://amzn.to/RhRquR
About the Authors
Josh and Lisa Lannon are Authors, Social Entrepreneurs and Founders of Journey Healing Centers (private drug and alcohol treatment centers in the United States), and proud parents of two young amazing children. Josh and Lisa have been together for 18 years and married for over 12. They've dedicated themselves to building a social enterprise focused on giving back to the community by taking a social problem and providing solutions. Journey Healing Centers also supports charities by regularly contributing profits every month and through event support where their team and clients volunteer to assist organizations such as Make-A-Wish Foundation, National Center for Missing and Exploited Children, Angels in Action, Kiva and notMYkid along with regularly donating food and household items to shelters. http://www.bzkpress.com/index.php/about/josh-lannon/
About The Rich Dad Company
The Rich Dad Company was founded in 1997 based on Robert Kiyosaki's best-selling personal finance book, "Rich Dad Poor Dad." While his poor dad's outlook closed his mind to the possibility of financial freedom, his best friend's rich dad elevated Robert's dreams, opened his mind to life's possibilities and allowed him to be financially free. Today, Robert and his team of experts provide financial education via books, seminars, videos, coaching, social media, innovative technology, and the board and Web game, CASHFLOW®, based on Robert's belief that people learn best through simulation. Our mantra is "Knowledge: the New Money." Everything we do has one common goal: to increase your financial knowledge and help you live the rich life. Discover how we can help you on your journey towards a rich life at http://www.richdad.com