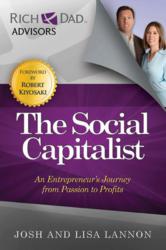 "If you're going to build something with impact, you've got to be able to reinvest the profit, which means you've got to generate it."
~ Josh Lannon, CEO Journey Healing Centers
Scottsdale, Arizona (PRWEB) November 28, 2012
To encourage entrepreneurs to build a social enterprise, "The Social Capitalist" book (Dec 2012) launches with proven strategies for how to grow a business with a conscience as part of the Rich Dad Series (Robert Kiyosaki, Rich Dad Poor Dad). Social Entrepreneurs, Authors, and Journey Healing Centers (private drug and alcohol treatment) Founders Josh and Lisa Lannon are leading by example this holiday by honoring Make a Wish Foundation and regularly giving back. Their annual holiday party is held at Make-A-Wish Foundation, where they present a donation that supports anywhere from 2-5 wishes for children each year.
While profit may be considered a dirty word in the philanthropy world, Journey Healing Centers CEO Josh Lannon shares, "If you're going to build something with impact, you've got to be able to reinvest the profit, which means you've got to generate it." The more profit a company makes, the more contributions and social impact can be made, along with growing the company. And as the US approaches the fiscal cliff with potential spending cuts in social programs, the new heroes will be companies with a conscience that build social enterprise solutions that solve problems.
"The Social Capitalist" describes how the path to profits is not easy, and how to overcome obstacles. Josh Lannon explains how hard it was not to give up, "We were successful, eventually, but we had to make a lot of mistakes along the way. We faced a lot of challenges and had to continually remind ourselves of what we wanted and why. We had to recommit dozens of times – times when it would have been a lot easier to throw up our hands and say, 'Forget it, let's do something else'." With a solid commitment, great mentor and dedicated team, Journey Healing Centers now has 100 staff members, six centers in two states, and is preparing for a global franchise launch.
Along with contributing a percentage of their profits every month to organizations such as Make-A-Wish, National Center for Mission and Exploited Children, Kiva and notMYkid, Journey Healing Centers team and addiction center clients volunteer to assist in local organizations, along with providing treatment scholarships to those who otherwise wouldn't be able to afford private care. Journey Healing Centers also donates food and household items to shelters.
A portion of the proceeds from the book will also go to Free the Children, the charity partner of Me to We. Free the Children is a charity that works domestically and internationally to empower and enable youth to be agents of change, and was just featured on 60 Minutes.
As part of the Rich Dad Advisor team, Lisa and Josh Lannon speak internationally to entrepreneurs to encourage them to build a business for profit and for good. To start a business, the couple recommends that entrepreneurs find "your WHY from the heart." With first-hand experience dealing with substance abuse, the Lannons' social cause is healing families who are coping with addiction. The company is profitable, gives away thousands of dollars in scholarships for treatment, and donates money, time and resources to other social causes in the community.
For a timely media interview, contact Liz Kelly, 1-310-987-7207.
About the Authors
Josh and Lisa Lannon are Social Entrepreneurs and Founders of Journey Healing Centers (private drug and alcohol treatment centers), Rich Dad Advisors, honorary members of YPO (Young Presidents Organization) and proud parents of two young amazing children. Josh and Lisa have been together since 1995. They've dedicated themselves to building a social enterprise focused on giving back to the community by taking a social problem and providing solutions. Josh and Lisa Lannon have also been featured in interviews on Fox News, PBS, Addiction Pro Magazine, Voice America, CBS Radio Night Views, America Tonight, Rich Dad Radio (http://www.richdadradio.com) among others. To pre-order "The Social Capitalist" book on Amazon: http://amzn.to/RhRquR
About Journey Healing Centers
Journey Healing Centers (Arizona and Utah) has assisted thousands of individuals recover from addiction with dignity and respect, reunited families back together again, has a 95% completion success rate (industry average is 48% according to SAMSHA, Substance Abuse and Mental Health Association) and holds the highest level of global accreditation. The company has been featured on MTV's Gone Too Far, PBS, Fox News, and in USA Today, Psychology Today, People Magazine, The Denver Post, Addiction Pro Magazine, NPR and many other local media. http://journeycenters.com
About The Rich Dad Company
The Rich Dad Company was founded in 1997 based on Robert Kiyosaki's best-selling personal finance book, "Rich Dad Poor Dad." While his poor dad's outlook closed his mind to the possibility of financial freedom, his best friend's rich dad elevated Robert's dreams, opened his mind to life's possibilities and allowed him to be financially free. Today, Robert and his team of experts provide financial education via books, seminars, videos, coaching, social media, innovative technology, and the board and Web game, CASHFLOW®, based on Robert's belief that people learn best through simulation. Our mantra is "Knowledge: the New Money." Everything we do has one common goal: to increase your financial knowledge and help you live the rich life. Discover how we can help you on your journey towards a rich life at http://www.richdad.com.