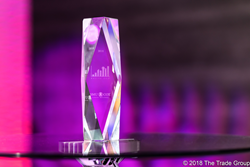 According to Stone, "We are incredibly honored to be recognized as one of the Dallas 100...As we look to the future, we hope to be affiliated with the Dallas 100 and SMU Cox School of Business for years to come."
DALLAS (PRWEB) November 08, 2018
For the past 28 years, the Caruth Institute for Entrepreneurship at the SMU Cox School of Business has been celebrating local, Dallas-area entrepreneurs for their "spirit, determination and business savvy" with its annual Dallas 100 list. The Trade Group is pleased to announce that it has been chosen for this honor in 2018. This is the first year the company has earned a Dallas 100 award, where it ranked 80th on the list.
According to Chris Stone, President and CEO of The Trade Group, "We are incredibly honored to be recognized as one of the Dallas 100, among so many esteemed privately-held businesses in Dallas. For the past several years, our team has been laser focused on growing the business, which has allowed us to expand our workforce from a handful of employees in 1986 to more than 150 today. To be recognized as an organization that is making an impact on our community is truly humbling."
The Caruth Institute ranks businesses from 1 to 100 based on percentage growth and absolute dollar growth over the past three years. To qualify for consideration, businesses must show fiscal year 2015 earnings of more than $500,000 and less than $75 million and a sales history that demonstrates growth over the past three years. Businesses must also have a satisfactory credit report and character, as determined by the Caruth Institute and Dallas 100 sponsors.
The Dallas 100 honorees have contributed millions of dollars to the local economy and collectively created more than 11,000 jobs from 2015 through 2017. These accomplishments are something Jerry White, the Linda A. and Kenneth R. Morris Endowed Director of the Caruth Institute for Entrepreneurship at SMU Cox, clearly recognizes.
"These companies are amazing growth machines. They can create a fantastic number of jobs and pump hundreds of millions of dollars into our economy, For 28 years, the Caruth Institute at SMU Cox has honored the critical role of entrepreneurship in the DFW economy, which has thrived specifically because of its long history of entrepreneurial spirit," White says.
Stone, an entrepreneur who co-founded The Trade Group more than 30 years ago, doesn't plan to slow down anytime soon.
As he explains, "Being recognized as one of the Dallas 100 in 2018 comes at a special time. The Trade Group is in the process of building a new, 230,000 sq. ft. corporate headquarters in Grapevine, a substantial expansion from the 120,000 sq. ft. space we occupy now. Along with continuing to grow our traditional trade show, event marketing and creative design services, we've also invested heavily to expand our service offerings in the exploding esports space. As we look to the future, we hope to be affiliated with the Dallas 100 and SMU Cox School of Business for years to come."
To learn more about The Trade Group's trade show, event marketing, creative design and esports services call 800-343-2005 or visit http://www.tradegroup.com.
About The Trade Group
The Trade Group is an award winning, full-service event marketing and creative design firm, specializing in trade shows, esports events and activations, corporate events, brand activations, retail merchandising, commercial graphics and experiential solutions. Since 1986, the company's team of live event, design and engineering experts has helped thousands of clients amplify their brands and successfully navigate a wide range of events and experiences. Clients rely on The Trade Group for: event ideation, creation and production; esports expertise; exhibit design and fabrication; graphic design and production; strategic marketing solutions; technology integration and more.