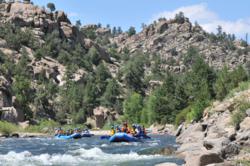 Our priority is taking care of our guests the same way we'd take care of our own families.
Buena Vista, Colorado (PRWEB) March 26, 2013
Spring brings thoughts of sunny summer days and, for many, vacations spent exploring the mountains and rivers in Colorado. Whitewater rafting is one of the most popular activities for vacationers, but choosing the right river outfitter can be a challenge. The Adventure Company, located on the Arkansas River in Buena Vista, has been in business since 1987 and offers 25 different rafting trips on four rivers, onsite lodging and activity packages with an emphasis on quality.
"Our priority is taking care of our guests the same way we'd take care of our own families," explained Mark Hammer, who was a river guide for 16 years before purchasing The Adventure Company in 2003. "What makes an outfitter successful? I believe it's making decisions based on what's best for our customers, money aside, so that they have the best experience possible. That brings them back year after year."
Here are eight questions that will help travelers plan a fun, safe and memorable Colorado whitewater rafting vacation:
1. Can you tell me about your guides? Experienced guides make a world of difference. It takes years of practice to master the skill of guiding commercial rafts in whitewater. A professional guide who is comfortable on the river and confident in his or her actions puts guests at ease so that they can relax and enjoy the trip. The Adventure Company is the only Colorado outfitter that requires its guides to have a minimum of four years of experience.
2. How long have you been in business? Longevity and business success come from satisfied customers. Travel review websites such as TripAdvisor provide firsthand reports and helpful advice. The Adventure Company is the top-ranked activity in Buena Vista on TripAdvisor.
3. How do you choose and maintain your equipment? Clean, well-kept rafts, life jackets, helmets and paddles make a rafting excursion safer and more enjoyable. The Adventure Company chooses equipment based on performance and safety to ensure it responds to the toughest whitewater in Colorado, and sanitizes its neoprene wetsuits after every use.
4. What other steps do you take to keep us safe and comfortable? Details such as the condition of the shuttle vehicles, how often rafts are replaced and whether there are enough life jackets, helmets, and wetsuit gear so that everyone gets the right size even on a busy day can provide reassurance.
5. What's for lunch? The answer can vary from prepackaged bologna sandwiches to gourmet fare. Knowing what's on the menu ahead of time can help manage expectations. The Adventure Company serves a hearty, hot fajita buffet on all three-quarter and full-day trips.
6. What are my options? Planning an action-packed vacation can take a lot of research. Working with an outfitter that offers lots of choices can save time and money, and help travelers plan the perfect trip for the needs and ability of the group. Look for a company with raft trips on multiple rivers and of varying length, for experience levels ranging from beginner to expert, with lodging and activity packages.
7. Is it a good value? Most Colorado rafting trips fall within a fairly close price range, so determining value is more about the quality of the experience than about saving a buck or two.
8. What makes your company different? All outfitters are not the same; give each one the chance to explain what makes it special. The Adventure Company is one of very few to offer expert-level raft trips on Class V whitewater and full moon rafting excursions, and is known for its emphasis on safety and quality.
Convenience is also important. The Adventure Company is located on the Arkansas River in Buena Vista an hour from Breckenridge and is an easy drive from Denver and Colorado Springs.
About The Adventure Company
The five-and-a-half-acre riverside property includes an office and outfitter store, large changing area, ample parking and a shaded picnic area. The newly remodeled Riverhouse Lodge bed and breakfast features six rooms — each with a beautiful view, private bathroom, television with satellite connection, coffee pot and fridge — and a large hot tub for a relaxing soak after a day on the river. Colorado vacation packages include ATV and horseback riding tours, fishing expeditions, hot air balloons, mountain biking, rock climbing, scenic train rides and zip line tours. More information is available at http://www.theadventurecompany.com or 800-497-RAFT (7238).