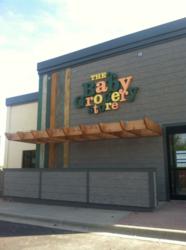 Charlotte, NC (PRWEB) March 13, 2013
The Baby Grocery Store is a brand new concept that is taking the nation by storm. The concept focuses on providing parents with all-natural, organic, and non-GMO choices for their children, from food to body care to cloth diapers and beyond, all under one roof.
The Baby Grocery Store opened its doors carrying more than 165 brands in a variety of categories that you would never be able to find in one place before. The Baby Grocery Store truly believes that they are revolutionizing the way that parents shop for baby essentials. Something that sets them apart from everyone else is their knowledge and passion. Their team is filled with very knowledgeable parents who are ready to answer questions and guide you through every product, compare the choices available, and help troubleshoot problems with complex things like making baby food, cloth diapering and baby wearing. These resources were available through online videos before, but there is nothing like being able to touch and truly get to know a product before customers purchase it!
The Baby Grocery Store is community focused. The community room has been the talk of the town due to it's spacious living room feel which allows parents to host play groups, baby showers and birthday parties with comfort, freedom and peace of mind. They have also hosted many events to help the community bond and create relationships with other like-minded parents.
They have established themselves and are ready to move onto phase two. The Baby Grocery Store has set aside a portion of the company to be owned by the community that has supported them from day one. They have investment opportunities available. They want their community to feel that they have a part of this wonderful new concept as they look to open stores across the country. The Baby Grocery Store would love to take you, their loyal followers, on this wonderful journey. For information about investment opportunities send an email to info(at)thebabygrocerystore(dot)com.