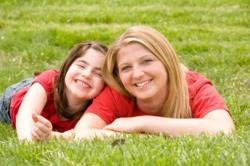 Recruiting families in neighborhoods of relevance enables Bair to culturally and geographically match children to families that can best meet their needs
Asheville, NC (PRWEB) March 03, 2013
Roughly 9,000 children and teens are in North Carolina's foster care system. Sadly, many of them are placed in shelters and institutional facilities because there aren't enough families willing to open their hearts and their homes to these children. Understanding the pressing need for more safe and nurturing homes, The Bair Foundation is looking for families in Western North Carolina who genuinely care about the well-being and plight of these children.
The primary objective of Bair's recruitment effort is to attract individuals and couples with the potential to become successful, committed, well-trained foster parents. The Bair Foundation provides every foster family with exceptional around-the-clock support, pre-service and on-going training, case management, and foster parent reimbursement. Bair is dedicated to partnering with families so they can successfully meet the unique needs of every foster child or teen placed in their home.
Recruiting families in targeted areas enables Bair to place children in a home that is within the child's community. This keeps the child connected to their school, friends, biological family and resources, ultimately leading to a more positive fostering experience and better outcomes. "Recruiting families in neighborhoods of relevance enables Bair to culturally and geographically match children to families that can best meet their needs", says Bair Executive Director, Susan Miklos.
As a Christian non-profit organization, The Bair Foundation believes that local churches also play a key role in solving our country's foster care crisis. By working together with churches, Bair hopes to inspire, equip, and connect with families that will reflect God's heart in caring for foster children. If you are interested in receiving more information or in having a Bair specialist speak in your church, call Rebecca Ivey at 828-350-5197.
###
About The Bair Foundation
The Bair Foundation is a national organization that has successfully cared for and treated children, teens and families for over 45 years. With 30 offices in nine states it offers a myriad of community based services which include Structured Intervention Treatment Foster Care, Traditional Foster Care, Adoption Services, Medically-Needy Foster Care, Independent Living Services, Parent Empowerment Program, B.E.S.T. Program, Wraparound Services, In-Home Services, Assessment Home, and Outpatient Services. The Bair Foundation is accredited by COA (Council on Accreditation) and is a member of The Evangelical Council for Financial Accountability, Alliance for Children and Families, Christian Alliance for Orphans, and Foster Family-Based Treatment Association. To find out more about The Bair Foundation, visit http://www.bair.org and http://www.facebook.com/thebairfoundation.