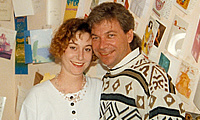 Becca felt that she was at war with cancer, and truly fought to kill the cancer in her body as a warrior would.
Northfield, IL (PRWEB) March 19, 2013
The Becca Foundation is named after Rebecca Kesselman, who succumbed to brain cancer at the age of 18 in 1990. "Becca, as she was known to family and friends had a special spirit and a very positive attitude about overcoming her condition; she was truly an inspiration to her peers as well as her healthcare supporters," notes Kesselman. He adds, "Becca felt that she was at war with cancer, and truly fought to kill the cancer in her body as a warrior would."
According to Kesselman, the website offers online "circles" where survivors, family members, friends and healthcare workers who are affected by cancer can engage; in other words, connect and communicate, which is part of the foundation's mission.
Becca's buttons are also a key feature of the foundation's mission; "I'M A CANCER KILLER!," and "Hope Always!" are a couple of the signature messages put forth by Becca Kesselman during her cancer fight, and are available to supporters for a $5 donation per button at the website, which includes shipping and handling (for domestic orders). Becca's buttons will also be rolling out to hospital gift shops in 2013, starting in the Chicagoland area.
The website also offers articles and interactions with leading medical personnel who are active in the field of treating the emotional needs of cancer survivors and their families.
"The foundation fills a gap in the chain of current support for cancer patients," notes John E. Mayer, MD, PhD, noted psychologist, consultant and supporter of the foundation's efforts.
Mayer further comments, "Emotional support for cancer patients, particularly for teens is somewhat scant today."
"Teens are technically not adults; however, they have adult-like questions and concerns, and they need an avenue for communication and connection, not only to each other but to those who can empathize and encourage them during their personal war on cancer."
"Becca and her family created their own in-person cancer 'support group' for those who were striving to keep hope alive in Southern California; the group provided an outlet for teens and, as it turns out, adults to connect and communicate about their challenges."
"Today, http://www.iamacancerkiller.org offers virtual 'circles' where all cancer survivors, teens and adults, their friends, family members and healthcare supporters can go to connect and communicate," summarizes Mayer.
Kesselman's near-term goal for the new foundation is simple: to let everyone touched by cancer know that there is an organization that hears their voices, seeks to communicate, and strives to connect them to others who can help support them emotionally.
"I watched Becca as she handed out her buttons, even her doctors and nurses started wearing them. I carried these observations with me for 22 years since Becca's passing, and I believe now is the time to carry out her mission of Hope Always!," concludes Kesselman.
About The Becca Foundation:
The Becca Foundation is an (applied for) 501(c) (3) nonprofit organization. For more information regarding The Becca Foundation, its mission or with questions, please contact Mickey Kesselman at mickey(at)iamacancerkiller(dot)org. The Becca Foundation also has a Facebook cause page and a Twitter account to connect those affected by cancer.