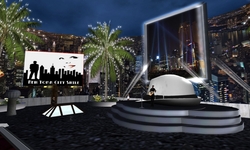 The audience and the artists can connect on a whole new level, because they can interact in real time without leaving their home. They can immerse themselves in the imagery, dance, and message of the musician while interacting with other concert goers.
Dana Point, CA (PRWEB) October 5, 2010
The arts are alive and well in the computer-generated world of Second Life, bolstered by the launch of The ConcertDome, a new virtual venue with the capacity to host visually enhanced concerts. The ConcertDome has begun hosting weekly hour-long concerts on Thursdays, beginning at 8 p.m. (PT) with more dates on the way. Developed by virtual entrepreneur Dan Parks, this innovative digital concert site provides audible entertainment as well as 3-D scenery crafted to showcase each artist's lyrics, music genre, and personality. In addition, the venue offers the perfect controlled public forum to showcase and train new performers with instant audience feedback on their songs, style, and audience appeal. Established artists, promoters, and agents can also utilize The ConcertDome to test market new material.
While there are thousands of other music venues scattered about SL, The ConcertDome is the first of its kind.
"I always enjoyed the musical offerings in Second Life, but I knew the staging hadn't reached its full potential," said Parks. "I wanted to amplify the experience for musicians and audiences alike – producing an upgraded virtual experience for our image-savvy generation. I think we accomplished that with The ConcertDome. I am always interested in pushing the boundaries for the art community – both in-world and out."
Parks collaborated with his Virtualis builder / designer Lynn Parrish, who helped him flesh out his concept and Second Life Builder / designer Kristine Kristan also contributed in customizing the set designs for the ConcertDome's first featured artist, LANCE Rembrandt, an award winning eclectic acoustic guitarist, who kicked off the Dome's tenure in early July. LANCE is the Winner of the 2010 Anthology Music Award for both Best Male Artist and Best New Live Artist. LANCE plays all original music inspired by life's day-to-day experiences, people, and dreams.
Lance's avatar looks just like his real world counterpart, a hat-wearing professional musician whose voice and fingers have a story to tell. During the concert, LANCE plays live in his real world studio, while his avatar channels the vibe in front of an audience and the scenery changes to fit the mood of each song. Fans in attendance can respond with applause via interactive options. Recent attendees have enjoyed the ConcertDome experience to the fullest.
Second Life music fan Lyla Levasseur was very impressed. "I thought it was very innovative! I enjoyed all the interactive visuals that went along with the music. The ConcertDome is a great way to spotlight live music in Second Life." "Each musician who books a ConcertDome gig will work with our team to create scenery that mirrors his or her lyrics and musical style." said Parks. He envisions not only booking up-and-coming musicians, but also visionary established artists looking to bring their music to life. "There are so many great possibilities with this Dome, it gives artists a cool new platform to engage their fans, musically, and visually. It can give visual exposure to new albums before their official release and facilitate feedback from the audience," said Parks. "Early on, stars like Suzanne Vega, Duran Duran, and Journey made Second Life excursions, and now we are offering an even more sophisticated product. I think musicians will be blown away with what they see – literally."
Some Second Life performers get paid by venue owners and are tipped by fans in Linden dollars – Second Life's virtual currency. Linden dollars can be exchanged for U.S. dollars through several online brokerages. The current rate of exchange is $269 Linden dollars to $1 U.S, according to the LindeX Market Exchange. Lance also provides satisfied fans with a tip button on his website, where they can show their appreciation through PAYPAL. The Concert Dome provides multiple options for purchasing tickets for shows, just like a real world concert, for the higher end shows. "It's a fun and engaging new way for people to attend concerts," said Parks. "The audience and the artists can connect on a whole new level, because they can interact in real time, at any time, without leaving their home. In addition, the audience can immerse themselves in the imagery, dance, and message of the musician while interacting with other concert goers. It builds fan loyalty in a fresh way," he said. "Lighters are optional."
To learn more about the ConcertDome and to be added to the ConcertDome Invite list, email Dan @ cpudan(at)mac(dot)com
About The Concert Dome
Dan Parks is the creator of The Concert Dome, a new virtual concert venue in Second Life. It features customized scenery that changes with each song, enhancing the words and expanding the musical experience of audience members. Parks also masterminded Virtualis (http://www.virtualiscenter.com), a meticulously designed convention center in Second Life that mirrors planner designed real-world convention centers with educational and boardroom breakout rooms, a grand ballroom, outdoor social and teambuilding venues, and a state of the art exhibit hall.
About LANCE
LANCE is a singer-songwriter who plays in a 6 piece band on college campuses, in large arenas and on military bases, as well as in virtual concert halls and nightclubs online. He has a fan club in Second Life called "Lance Loyal Listeners." For more information, go to LanceSongs.com.
About Second Life
Second Life is a 3-D virtual world launched in 2003 by the company Linden Lab, founded by Philip Rosedale. SL is accessible through a free downloadable application – the Second Life Browser. With this app, people create graphical 3-D representations of themselves – or "avatars" – which they can maneuver through virtual landscape and interact with other people, objects and environments. The site gets an estimated million visits each month. Accounts are free. To sign up, visit SecondLife.com.
CONTACT:
Dan Parks
1-800-493-2545 ext. 201
cpudan(at)mac(dot)com
# # #