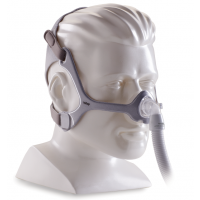 Quality Sleep Aid Products and Services
West Berlin, NJ –
March 14, 2013 (PRWEB) April 19, 2013 -- The CPAP Shop launches social media contest to promote sleep apnea awareness among the netizens.
Scott Farrell of Brooklyn, NY, was recently chosen to receive a free Philips Respironics Wisp CPAP mask during the 2013 online Scavenger Hunt on TheCPAPShop.com.
"I had recently just made my first purchase from thecpapshop.com and was surfing around the site when I came across the contest," says Farrell. "Masks have failed me in the past and I am resistant to paying $100+ to try something that doesn't work. The contest was the perfect option to try a new mask for free." The CPAP Scavenger Hunt invited the public – customers and national sleep apnea sufferers alike – to find 9 secret letters to unscramble and then tweet the winning word to @TheCPAPShop. The social media contest ran through two months in an effort to connect The CPAP Shop's active Twitter community and e-commerce shoppers.
"I have been using a CPAP mask for 10 years now and could not imagine being without it," explains Farrell of his sleep apnea. "I might not still be married if it wasn't for CPAP; my wife had banished me to the couch because of my snoring! My advice for anyone who thinks they have sleep apnea is to get a sleep study done! You will not regret it. At first, CPAP masks are a huge pain, but once you figure out the mask and a setup that works for you, it gets easier. At this point, my body is trained to know that when the CPAP mask goes on, it is sleep time. Luckily, I am usually out like a light within 5 minutes."
Next month, The CPAP Shop will be running a "Share Your Story" contest in honor of Sleep Apnea Awareness Month. CPAP Shop fans will pick their favorite 3 stories, whether it's a success story or a personal look into dealing with sleep apnea. The CPAP Shop's objective for the social media contest is to inspire other sleep apnea users and help those diagnosed feel comfortable getting treatment. All three winners will receive a new Philips Respironics Wisp CPAP mask. The CPAP Shop will also donate 1% of all online purchase made in March on http://www.thecpapshop.com to the American Sleep Association.
The CPAP social media contest is thanks to its Internet marketing partner Boomtown Internet Group and supplier Philips Respironics, who made the contest possible.
For CPAP and sleep apnea information, advice and support, contact tcs(at)thecpapshop(dot)com or visit http://www.thecpapshop.com.