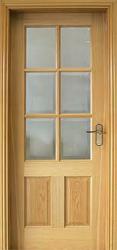 Quercus alba, in particular is one of the best selling types of oak, which is species commonly known as the White Oak.
(PRWEB UK) 25 March 2013
Today The Door Store is advising their customers about internal white oak doors and what they should expect from this particular type of oak. The company, which has been established since 1975 has been supplying doors for nearly 40 years and would like to pass on this knowledge to their large client base by updating them with weekly reviews and insights for particular products.
Oak doors are by far one of the Door Store's top selling products due to their versatility for both traditional and contemporary house designs as they wouldn't look out of place in either a modern office or a 60 year old house. Quercus alba, in particular is one of the best selling types of oak, which is species commonly known as the White Oak. The grain is very attractive and also very durable, which is ideal for families or office use such as the Trade Spec 4 Panel produced from American White Oak veneers. Many doors tend to use particle board cores and veneers that are usually from an unknown origin and are considered inferior; however these veneers are produced on a solid timber engineered core adding a high level of quality.
Not all of the designs are purely wood of course. White Oak is particularly popular with pre-glazed finishes. With this type of design you have the added advantage of allowing light to enter the room from another room. This is particularly useful for houses where the sun maybe only shines on one side of the property and is a great way of allowing light to enter from another room yet at the same time having a door that is much less vulnerable to damage as a door that is fully glazed. A perfect example of this would be the Cambridge pre-glazed, which is three quarter glazed yet maintains the style of the oak door and can be commonly be found between a living room and kitchen as it can also drown out the sound of cooking in the kitchen but still allow the user to be able to look in and see that nothing is burning!
Choosing the style of a white oak door will tend to come down to personal preference and Door Store understand that purchasing doors are seen as quite long term investments so they have recently added software to their website allowing the user to zoom in on each product individually. This will allow users to see the finish and grain of the wood in a much greater detail helping them make their decision.
To visit The Door Store's white oak page go to http://www.doorstore.co.uk/products/internal-doors/white-oak/641/