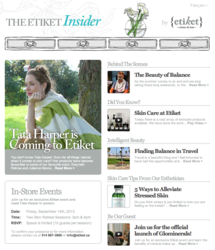 With The Etiket Insider we want to be able to pass on the same level of information and expertise we have in the store to our on-line customers.
Montreal, Quebec (PRWEB) September 12, 2012
Etiket today announced the launch of The Etiket Insider, a bilingual blog and newsletter developed to give the same Etiket experience to its on-line users that their in-store customers have. The Etiket Insider is the latest vehicle from Etiket to ensure that the on-line shopper is able to have the latest information on skin care, hair care, perfume, and mineral make-up.
"We want to be able to pass on the same level of information and expertise we have in the store to our on-line customers. We actually had our Facebook friends help us choose the name for The Etiket Insider and can't wait to see the response to it," said Simon Tooley, President of Etiket. "All of our team is involved in deciding on content based on what we hear from our customers in the store and our treatment room. We have planned a series of videos as well which will launch with the first issue to bring people right into the store. We want to be able to provide our customers an informative, engaging and fun experience no matter how they shop at Etiket."
With The Etiket Insider, there will be content from Ariane Lemire, the manager and professional make-up artist with tips and tricks on applying mineral make-up and why it is good for the skin. Paule Roussin, the esthetician, is taking the questions she has from her clients to help educate everyone on better skin care. Karine Raymond is the editor on the French side that will share not only the latest on what is going on at Etiket, but how a working mother balances life and what is important for her in skin care and beauty. Natalie Cola, the beauty editor on the English side will share her beauty knowledge as well as post about her travels as she explores beauty outside of Montreal. Dr. Yves Hébert, the medical consultant, has his own column that addresses what he is seeing in aesthetic medicine and how it relates to skin care. Simon Tooley, the owner and President, will give his behind the scenes look at what it is to run and build Etiket into a destination for results-oriented skin and hair care, niche perfumes, mineral make-up and exclusive beauty products.
About Etiket: Etiket launched its first store in December of 2011 as a luxury retail concept located in downtown Montreal. Etiket is establishing itself as a results-oriented skin care resource both in Montreal and on-line while at the same time growing its product categories to include: mineral make-up, fragrance, bath and body as well as hair care and exclusive beauty products. An online store was launched in March 2012 and long-term plans include opening more stores across Canada.