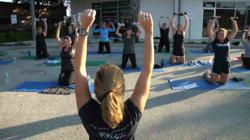 We have built an affordable, cutting edge studio that will provide an excellent franchise opportunity to someone who wants to be in the health and wellness industry
Tampa, Florida (PRWEB) November 14, 2012
My House Fitness, an Orlando based, fully-equipped Personal Training Facility that provides clients both individual one-on-one personal training and group training sessions, has engaged the services of The Franchise Sales Solution to assist in the development and growth of its franchise program.
My House Fitness, who just recently completed the registrations necessary to sell franchises, currently operates one company owned facility and has one franchise location in the Orlando area.
"Our goal is to help people who have found that traditional fitness studio's just don't work for them. We are 100% focused on personal training which makes us unique in the marketplace," said Chris Wherrell, who co-founded My House Fitness with his wife, Jennifer Wherrell, who added, "We have built a affordable yet cutting edge studio that provides a comfortable and intimate training environment for our diverse clientele".
While The Franchise Sales Solution works with a very diverse group of franchise companies, this was the first in the fitness space. "Personally, I have a fondness for this industry, as I spent the first 20 years of my career with the YMCA" said John Armatas, Principal at The Franchise Sales Solution. "This is a perfect niche business for someone who has an interest in health and fitness and is transitioning from corporate America to owning a franchise".
Since 2010, My House Fitness has been providing their brand of personal training to hundreds of clients in the Orlando area. "Chris and Jennifer are passionate about changing people's lives," added James Emerson, who will be handling the sales for the franchisor, "they have me on a regimented training program and I have already seen a difference in the first 30 days".
For additional information on the My House Fitness Franchise Program, contact James Emerson, at 888.524.4047.
ABOUT THE FRANCHISE SALES SOLUTION
The Franchise Sales Solution, is a Tampa based franchise sales and development company. Each partner has owned and operated both small business and franchise operations and has a unique understanding of the challenges that entrepreneurs face in growing their companies. For additional information on the franchise systems they represent or to discuss their services contact, John Armatas at 855.844.8377