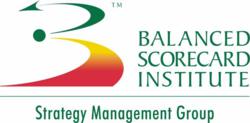 "Most balanced scorecards are a picture of where the organization is today ... what's needed is a picture of where the organization is going tomorrow."
Cary, NC (PRWEB) March 14, 2013
It's an age-old business question: What is the best way to successfully formulate AND execute strategy in an organization?
The publication is the brainchild of the Balanced Scorecard Institute, an organization that provides professionals with the tools to engage the entire organization in building and deploying a strategic management system. This approach results in a better, more actionable plan, and maximizes buy- in from staff and other stakeholders. The book is authored by four Institute officers, who have combined over 100 years' of experience with strategic planning, performance measurement and management, strategy execution, and change management in business and industry, government, and not-for-profit organizations. Howard Rohm, Co-Founder and CEO is the original creator of the Institute's Nine Steps to Success™ balanced scorecard framework, David Wilsey, Vice-President of Education and Technology leads the development of training and certification programs, Gail Perry, Vice-President of Strategic Solutions leads business development and international programs, and Dan Montgomery, Vice-President of Professional Services leads the consulting practice.
With the motto of Making the Academic Practical, the Institute takes great pride in its ability to help strategy professionals cut through the theory and jargon and learn to effectively connect the dots between the actions of the organization and desired outcomes. The Institute Way is more than a strategic planning approach, more than a strategy execution approach, more than a strategic performance scorecard, more than a change management tool, and more than a way to prioritize initiatives – it is the integration of these different elements in a simple, disciplined framework that is easy to build and used to communicate strategy clearly to everyone in the organization. The Institute Way will be available for purchase starting June 2013.
Want a preview of the book contents? Topics of the book will be discussed at the Strategic Performance & Change Management Summit in March in Atlanta. The International Quality and Productivity Center and the Balanced Scorecard Institute have teamed up to provide an event that showcases the best practices, case studies and practical hands-on advice on how organizations can drive performance improvement to create a culture that embraces change. For more information on the event, please visit http://www.performancemgmtconference.com.
About the Balanced Scorecard Institute: The Balanced Scorecard Institute provides training, certification and consulting services to commercial, government, and non-profit organizations worldwide. The Institute applies best practices gained from hundreds of consulting assignments and 5,000 trainees in balanced scorecard, strategic performance management and measurement, strategic planning, and change management to help executives, managers and analysts transform their organizations into "performance excellence" organizations. For more information please visit http://www.balancedscorecard.org.