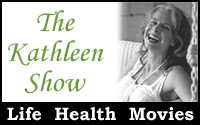 Madison, WI (PRWEB) March 5, 2008
The Kathleen Show, a nationally syndicated radio program about better and healthier living, making changes and rattling some cages, announced today the launch of a new Website at http://www.thekathleenshow.com. The interactive site serves as a portal to the nation's leading health and wellness experts, some of the most intriguing entertainment industry figures, and other opinion leaders who encourage smarter living.
With a simple, user-friendly design and pages dedicated to each guest, http://www.thekathleenshow.com is an innovative tool for consumers who are looking for critical information and advice from well-known health and wellness gurus, fitness buffs, financial experts, parenting prodigies, entrepreneurs, organizers, doctors, and more.
Some past guests who are currently featured on the site include Christiane Northrup, MD, women's health pioneer; Martha Beck, New York Times bestselling author, O columnist and life coach; Chris Carmichael, U.S. Olympian, bestselling author and personal coach to Lance Armstrong; David Bach, New York Times bestselling author and financial guru; William Sears, MD, medical and parenting consultant for Baby Talk, Parenting and the pediatrician on Parenting.com; Peter Walsh, bestselling author and Oprah's organization sensation; and Adriana Barraza, Academy Award-nominated actress.
Each week the Website will feature new experts, tips, advice and resources, creating an in-depth encyclopedia of fun, inspiring and life-enhancing information.
The Kathleen Show is hosted by critically-acclaimed filmmaker and consumer health advocate Kathleen Slattery-Moschkau whose goal is to educate through entertainment. Featured across the country for her unique, inspirational journey from big pharma to the big screen, and on various health and wellness topics, Kathleen saw there was an overwhelming interest in and need for a weekly program that dove into life-changing topics in a light and engaging format. As a result, she launched The Kathleen Show in July 2006.
Most recently she founded Be Well Media, a nonprofit production and promotion company which uses films and other media to help make a dent in the health care crisis. Prior to that, Kathleen wrote/directed the critically acclaimed film Side Effects (starring Katherine Heigl), and the award-winning documentary, Money Talks: Profits Before Patient Safety.
The Kathleen Show airs online at http://www.thekathleenshow.com, and is also available via Podcast, iTunes or on select radio stations across the country.
To arrange an interview with Kathleen Slattery-Moschkau please contact Cari Reisinger at (209) 736-6769.
###