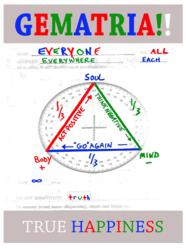 Each dimension has its own unique principle, color scheme, geometric symbol and numeric value. It's difficult to describe precisely in English
(PRWEB) January 12, 2011
Santa Monica, CA (PRWEB) January 11, 2011 -- Film producer Paul Rosenberg says God is a state of being, fully experienced when you can navigate the 10 unique dimensions and 3 pure energy forces that power the electromagnetic circuit at the core of humanity, the higher power and the Universe. "Reality is one big multiplex theater playing a finite set of biblical tales all starting at different times and places. The key to cracking the code of the nature of man, God and the universe is to discover the filter that unifies everything and syncs all 3 together."
The award winning producer, says he doesn't sleep much, and since his earliest memories, he's spent most of his 49 years pondering the questions of human existence. Now he's confident he's come up with that elusive missing filter, the original protolanguage of mankind. He calls it GEMATRIA!!.
"Each dimension has its own unique principle, color scheme, geometric symbol and numeric value. It's difficult to describe precisely in English," says Rosenberg. That's why GEMATRIA!! is its own higher level language that keeps pace with the speed and complexity of our consciousness. "It's a human computer language, everything has a positive, negative or spiritual charge to it, (+,-,o respectively). Once you determine which charge, and which dimension, you can begin to process information at close to light speed."
When asked why he thinks he's come up with better answers than those who have come before him, Rosenberg has several explanations. "I'm sure others have reached similar conclusions however, the most prevalent theories today are incomplete because they do not accurately account for spiritual energy. Any credible theory must be pure and simple, explainable in a few sentences, and be as true today as it is at time zero, the instant God and the first man and woman existed."
By definition, GEMATRIA!!, balances body, mind & soul but, with a few important differences and fundamental principles. First and foremost, is what Rosenberg calls The Soulographic Principle. This asserts that God and our souls speak only one language, Pure Truth, another fundamental principle of GEMATRIA!!. Therefore, society and the human race need to reprogram themselves to live Soul 1st, instead of mind first, the way we've been taught. "Starting over won't be without its challenges, but we can do it, and our grandchildren can truly live in heaven on earth."
There is also a technical reason why everyone should live Soul 1st. According to Rosenberg, your soul is a lens that filters the spiritual energy into pure positive and pure negative energy which is how our circuitry is designed to work. Interestingly, Rosenberg says once the energy is separated, the positive energy is red and falls to the left of zero, and the negative energy is green and falls to the right, the exact opposite of convention. "If you don't keep your soul in proper alignment, or know which direction to channel the energy forces, the spiritual energy gets misdirected and short circuits. This is what causes most mental illness."
Although Rosenberg believes GEMATRIA!! and Pure Truth will someday be the one language and guiding principle of humanity, one thing he can't predict is how long it will take. "It could be hundreds of years, or it could suddenly reach a tipping point and circle the globe in an instant."
Hoping to speed the process along, Rosenberg will be screening his experimental documentary film GEMATRIA!! - Part 1 - G... 0....D., next month in Los Angeles. He describes it as an Algorithmic Entertainment Experience, best experienced with your subconscious and mind's eye, another fundemental principle of GEMATRIA!!.
At the screening Rosenberg will also be announcing the GEMATRIA!! Course Series. The classes will initially be offered in Los Angeles and online, but Rosenberg says he has already begun raising money to fulfill his dream of building GEMATRIA!! learning centers worldwide.
©2003- 2011 m2mstudios.com
###