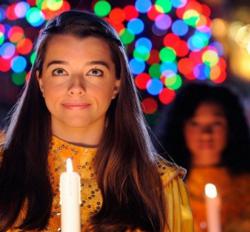 Part of what makes this event so special is that it allows you to celebrate the Holidays all over the world and see how each culture spends Christmas night
Orlando, FL (PRWEB) November 08, 2012
The Orlando Vacation Store, a lead seller of Orlando vacation packages, announced that this years show include great narrators and dining packages.
Each year, the list of Narrators is highly anticipated. TOVS released the full list in a blog, and Neil Patrick Harris, Whoopi Goldberg and Amy Grant are only a few of the narrators that are included in this show's star-studded lineup.
These celebrity guests come to read passages from the bible to guests. The tone of the event is one of joyful inspiration, with a massive choir and live band helping the story come to life. The choir, which is made up of singers from all over the country, performs some of the most beloved of all Christmas classics, such as "Silent Night" and "Away in a Manger". Just as Magic Kingdom has Mickey's Very Merry Christmas Party, EPCOT's legacy is the processional.
Epcot Center's World Showcase is an area of the park where Countries such as England, Mexico and Canada come alive. Architecture from notable buildings is recreated along with restaurants featuring cultural favorites. All of the cast members located in the different countries are natives who speak the language and love sharing stories about their homelands and experiences.
Part of what makes this event so special is that it allows you to celebrate the Holidays all over the world and see how each culture spends Christmas night, complete with a different Santa costume for each country and storytelling.
There is no additional charge for the show, but there are great dining packages available. They include dinner at one of Epcot's famous gourmet restaurants, such as the ones in Germany, France and Japan. The packages also include guaranteed seats and special VIP viewing of the fireworks show that night following the processional.
It is recommended that guests arrive well before the show is set to begin as seats fill up quickly. The event takes place in the beautiful outdoor theater located in the American Adventure area of the World Showcase. The outdoor theater has bench-style seating surrounded by trees decorated with twinkling lights. For more information read our Disney's Christmas blog.
About The Orlando Vacation Store
The Orlando Vacation Store is a local travel company that handpicks the best hotels according to quality, location and features, and negotiates the best wholesaler rate to offer guests the best deals on their trip. The hotel and park tickets are combined into a discounted and stress free vacation package. TOVS has the advantage of knowing all the tricks to planning and saving money on every aspect of an Orlando vacation.