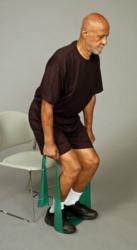 …..patients who engage in a Thera-Band prehab program prior to TKA surgery realize an accelerated recovery following TKA surgery.
Akron, OH (PRWEB) March 04, 2013
Knee osteoarthritis patients who engaged in Thera-Band® elastic resistance exercise prior to knee replacement surgery generated higher quality of life scores three months following surgery compared to population norms.
A team of researchers from Bellarmine University and Marquette University recently evaluated the effectiveness of an eight-week Thera-Band prehab program on 18 knee osteoarthritis patients three months after total knee replacement surgery, also known as total knee arthroplasty (TKA). The patients were randomly assigned to an exercise or control (no exercise) group. Three months after surgery, the patients were evaluated for their quality of life using the SF-36 measurement tool.(1)
Patients in the exercise group showed significantly better quality of life results in all eight domains of the SF-36 compared to population norms. The exercise group also had significantly better scores in the physical functioning domain, which measures activities such as lifting, walking, bending, kneeling and climbing stairs. Click here to view the exercise protocol.
"The findings of this study are consistent with other clinical trials conducted by this team that have indicated that patients who engage in a Thera-Band prehab program prior to TKA surgery realize an accelerated recovery following TKA surgery," stated Robert Topp, RN, PhD Associate Dean for Research, Marquette University.
About the Academy
The Thera-Band® Academy was formed to scientifically document the benefits of resistance exercise and pain relief, guide the company in its development of new products and exercise programs, and to promote therapeutic exercise and pain management through professional and consumer education. The Academy web site is a unique resource that connects healthcare professionals and consumers to the ever growing body of knowledge on exercise. Registration is free and provides access to the largest database of rehab exercises, protocols, research and education in the world.
About Performance Health
Featuring leading brands like Thera-Band®, Biofreeze® and Pedigenix®, Performance Health offers a broad portfolio of products for the therapy, rehabilitation, wellness, massage, podiatric and performance markets. In addition to market-leading products, Performance Health provides practice building support, evidence-based protocols, clinical and product education, turn-key dispensing and pain management solutions.
REFERENCE: Brown, K et al. 2012. Prehabilitation and quality of life three months after total knee arthroplasty: a pilot study. Perceptual and Motor Skills: Physical Development and Measurement. 155(3):1-10.
(1) The SF-36 is a multi-purpose, short-form health survey. It yields an 8-scale profile of functional health and well-being scores as well as psychometrically-based physical and mental health summary measures and a preference-based health utility index. It is a generic measure, as opposed to one that targets a specific age, disease, or treatment group.
Disclosure: This study was supported by Thera-Band Academy.