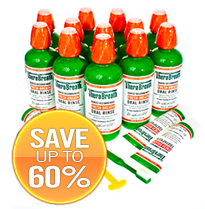 Biggest savings event of the year offering HUGE savings on TheraBreath Bonus Paks!
(PRWEB) March 04, 2013
TheraBreath's biggest savings event of the year offering HUGE savings on Bonus Paks begins March 4, 2013 and ends March 25, 2013. During this time, TheraBreath will be offering discounts on a variety of Dr. Harold Katz's world famous oral hygiene products, specifically the ever- popular TheraBreath Bonus Paks. Each Bonus Pak, priced to save customers from 58 to 63 percent, contains powerful mouthwashes, oral rinses, toothpastes and other items essential to experiencing the freshest, cleanest breath and healthiest mouth possible. TheraBreath's Bonus Paks are specially packaged to help people who suffer from severe halitosis due to uncontrolled oral anaerobic bacteria activity. In addition, TheraBreath's Bonus Pak products effectively treat certain oral health issues such as post nasal drip-induced bad breath, gingivitis and chronically dry mouth ( a condition directly related to tooth decay), gum disease and chronic halitosis.
Using his in-depth knowledge of dentistry and bacteriology, Dr. Katz created his unique breath-freshening formula exclusive to TheraBreath products by investigating the primary cause of bad breath--anaerobic bacteria. This type of bacteria cannot live in oxygenated environments and prefer the dry, airless conditions found in mouths lacking sufficient saliva flow. Consuming food particles, mucus and mouth debris provides anaerobic bacteria with the fuel necessary to excrete foul-smelling gases responsible for bad breath.
When ordering one or more TheraBreath Bonus Paks, customers will also receive up to $175 in bonus products by choosing the $117 "Build Your Own" value bonus package or the pre-built bonus package valued at $175. Orders are then shipped free (within the US and Canada) and accompanied by tracking information and a 100 percent satisfaction guarantee. TheraBreath makes it easy to purchase these supersaver Bonus Paks by providing three ways to place an order: online at http://www.therabreath.com/Offer/BPKMAR13A; by phone at 800-97-FRESH (mention code BPKMAR13A); or by filling out an order form and mailing it. Remember that shipping is free in Canada and the U.S. no matter how many Bonus Paks are purchased.
TheraBreath oral hygiene products are exceptionally effective at eliminating bad breath and dry mouth because they contain Dr. Katz's patented OXYD-8 compound, a safe and effective substance that stimulates saliva flow by enriching the mouth with oxygenating molecules designed to target and kill anaerobic bacteria. Customers ordering one of TheraBreath's Bonus Paks at a 60 percent savings also benefit from the bad-breath fighting natural ingredients such as xylitol, tea tree leaf oil and zinc gluconate. Supplementing the ability of OXYD-8 to freshen breath, eliminate odorous bacteria and enhance the overall health of the mouth, these ingredients will not exacerbate halitosis like many alcohol-containing, over the counter mouthwashes and rinses will do to an already dry mouth.
This much anticipated TheraBreath Bonus Pak mega-sale also includes Dr. Katz's professional dental system for whitening teeth. Bonus Pak "F" contains everything needed to polish, strengthen and whiten teeth without going to the dentist. Additionally, TheraBreath's AktivOxigen ingredient powerfully cleans teeth without harming enamel or causing sensitivity. Customers ordering this Bonus Pak will be amazed at the benefits provided by TheraBrite plus polishing toothpaste, carbamide peroxide gel syringes, AktivOxigen tablets infused with oxygen molecules for extra cleaning power, AktivOxigen serums, a tongue cleaner and clinically professional toothbrush.
Take advantage of this great sale between March 4 and March 25 by saving hundreds of dollars on TheraBreath's Bonus Paks and discover how Dr. Katz's remarkable oral hygiene products can freshen breath, relieve dry mouth discomfort, prevent cavities, reduce plaque accumulation and whiten enamel. Join the hundreds of thousands of people who will soon experience the cleanest mouth, freshest breath and whitest smile possible while saving 60 percent or more on a variety TheraBreath Bonus Paks, up to $175 in free products and zero shipping costs (in the US and Canada).