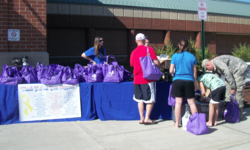 TheraBreath® donated several hundred of their oral hygiene products to the soldiers stationed at Fort Drum.
Fort Drum, NY (PRWEB) August 07, 2012
In support of the U.S. military, TheraBreath donated several hundred of their oral hygiene products to the soldiers stationed at Fort Drum, New York on July 28, 2012. Rebecca Connors, a military wife and onetime former Fort Drum soldier, her husband and best friend provided 200 care bags to soldiers filled with food packages and hygiene products ranging from Planter's Peanuts and Barefoot Winery items to body wash, shampoo and TheraBreath's uniquely formulated toothpaste and mouthwash.
Ms. Connors, a resident of Weatherly, Pennsylvania, developed her plan to provide care packages to Fort Drum soldiers after making a New Year's resolution to get serious about saving money on groceries and start couponing. Planning to use half of the free items she received from couponing into the care packages, Ms. Connors discovered that there are limits regulating coupons that prevent consumers from obtaining large amounts of the same item. However, she thought she would resolve this problem by contacting companies through their Facebook pages and asking for support in her endeavor.
Initially, she received very few responses, stating that for every 20 requests, she would receive only two responses. However, she remained undaunted by the lack of interest and kept connecting with as many companies as possible, including TheraBreath, which sent her a large shipment of free oral hygiene items. Eventually, more and more companies began responding to her requests and she says her and her husband's house "began filling up from shipments coming in every day".
Fort Drum soldiers using TheraBreath products will now be able to experience healthy, fresh breath due to the naturally effective ingredients used in making TheraBreath's famous oxygenating toothpaste, mouthwash, sprays and rinses. By creating a patented ingredient, OXYD-8, renowned dentist and bacteriologist Dr. Harold Katz has provided hundreds of thousands of the people suffering from chronic dry mouth and bad breath the ability to eliminate embarrassing mouth odor caused by anaerobic bacteria. In addition, TheraBreath products will help maintain optimal oral health for our soldiers so that unpleasant teeth and gum diseases do not prevent them from performing their duty. Many of TheraBreath's products are ideal for our soldiers as they do not require water to be used.
After solving the problem of inspiring interest for her cause, Ms. Connors then had difficulty communicating with Fort Drum officials in order to find a unit to which she could ship her care packages. At first, she planned to distribute the items to either her or her husband's former unit but both had lost contact with most of the people they once knew on the post. She tried coordinating with the United Service Organizations, Army Community Service groups and Morale, Welfare and Recreations but received no response to calls or emails.
However, with nationwide support from companies like TheraBreath and Carnation as well as hundreds of Facebook users who noticed her postings, a rental trucking company gave Ms. Connors free use of a van to help transport the care packages. In addition, businesses surrounding Fort Drum held a raffle that earned several hundred dollars to pay for the van's fuel costs.
Because of her hard work and persistence Ms. Connors, along with her husband, best friend and the donations from many generous individuals and companies, has shown the meritorious soldiers at Fort Drum that they have not been forgotten in their steadfast effort to keep our country safe for all its citizens.