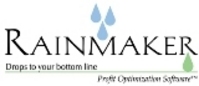 Americans are known for pulling together in tough times and Rainmaker's center of gravity is Las Vegas so we wanted to bring our meeting investment back to The Strip
Atlanta, GA (PRWEB) November 17, 2009
The Rainmaker Group, a world leader in automated profit optimization software and services for the gaming hospitality industry, announced it will sponsor the Gaming & Leisure Roundtable golf tournament at Red Rock Country Club, and with Microsoft, will co-host a cocktail party at PURE Nightclub during the Global Gaming Expo (G2E) November 17 - 19 in Las Vegas. The Rainmaker Group will also sponsor a roundtable discussion titled "To Yield or not to Yield" at the Gaming & Leisure event.
In addition, Rainmaker will hold its annual Client Steering Committee meeting at The Four Seasons Hotel in Las Vegas on November 19. Attendees will include representatives from Harrah's Entertainment Wynn Las Vegas, MGM MIRAGE, Trump Entertainment Resorts, and Isle of Capri Casinos.
Rainmaker keeps it in Las Vegas
"Americans are known for pulling together in tough times and Rainmaker's center of gravity is Las Vegas so we wanted to bring our meeting investment back to The Strip," said Tammy Farley, principal of The Rainmaker Group. "We value the gaming hospitality industry and the professionals who have made it their careers. Las Vegas is the only destination in the world where you can bring a group of any size and house them in the same property. Everybody is in one place and can enjoy the finest restaurants in the world. You can conduct serious business during the day and still have fun at night."
Rainmaker Creates Business Efficiencies
Top gaming industry hotel companies implement Rainmaker's revolution™ revenue management solutions to forecast demand based on total customer value, which enables them to manage their business more efficiently. revolution uses advanced mathematical analysis to assess each guest value, including their gaming and non-gaming spend, and suggests the optimum mix of guests. In addition to optimizing hotel revenue, operators use revolution to streamline business practices and better manage their marketing expenses with forecasts that determine the most favorable guest segment mix and the type and timing of promotions.
About The Rainmaker Group
The Rainmaker Group is a software and consulting services company that provides profit optimization for more than one-half million units in the gaming hospitality, serviced apartment/multifamily housing and other industries. Rainmaker consults about, implements, and supports the revolution Product Suite, which maximizes total guest profitability for operators of casino hotels and other hospitality enterprises. The company enables clients to identify and maintain availability for their most profitable revenue sources through revenue management implementations. The Rainmaker Group helps casino hotels increase profitability through the accurate, instantaneous ability to determine the minimum acceptable value of each guest. This increases client profitability by securing the most profitable customers and developing more effective business processes. Hospitality clients include Wynn Las Vegas, Boyd Gaming, Harrah's Entertainment, Omni Hotels, MGM MIRAGE, Trump Entertainment Resorts and other leading hotel companies.
The names of actual companies and products mentioned herein may be the trademarks of their respective owners.
Contact:
The Rainmaker Group
Tammy Farley, Principal
5755 North Point Parkway
Suite 77
Alpharetta, GA 30022
Phone: 678-578-5777
Email: sales(at)letitrain.com
http://www.letitrain.com/?Campaign=PRWebG2Enov162009
Media Contact -North America
Julie Keyser-Squires, APR
Softscribe Inc.
180 River Springs Drive NW
Atlanta, GA 30328
Phone: (404)256-5512
Email: Julie(at)softscribeinc(dot)com
http://www.softscribeinc.com
http://www.marketingsnacks.com
Media Contact - Asia Markets
Wye Leng Wong
LEAP Integrated Marketing Solutions
Phone: (65) 9826-4097
Email: wyeleng(at)leapmarketing.com.sg
###