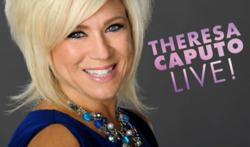 Pittsburgh PA (PRWEB) September 27, 2012
Long Island Medium reality show star Theresa Caputo makes a serious claim to fans – she can communicate with the deceased. After two widely popular seasons featuring Caputo doing just that, communing with "spirits" that come to her, her family, and her clients, Caputo is launching a live tour through the United States. After opening in Westbury, New York on October 6th, 2012, Caputo will continue on through destinations like Atlantic City, NJ; Norfolk, VA; Louisville, KY; Long Beach, CA. The tour will finally conclude at the San Diego Civic Center on November 8th, 2012.
Two factors are influencing the rapid selling pace of Theresa Caputo tickets, especially at sites promising the lowest final prices after fees and delivery, like HeadlineTickets.com:
Theresa Caputo's popularity has reached new heights thanks in large part to her recent appearances on the Dr. Oz Show (May 21, 2012), The Tonight Show with Jay Leno, and Anderson Live. In response to the recent popularity surge, Caputo has agreed to a short tour – only about a month long. This gives fan of Long Island Medium on TLC and of Caputo herself a much more limited time to buy Theresa Caputo tickets compared to other big name events this year.
Theresa Caputo has developed a reputation for not only claiming to be able to communicate with the dead, which she terms "spirits," but also balancing such a rare talent with the typical suburban family life. According to Caputo, she feels sensations in her body that give her clues about what spirits are attempting to tell her. She might, for example, feel pain in her chest when standing next to a woman in the supermarket, whose husband has recently died of a heart attack.
Caputo first noticed that she could see spirits at the age of four, a realization that left her suffering from severe anxiety for years until she saw a spiritual healer at the request of her mother. Caputo went on to become a practicing medium certified by the Forever-Family Foundation.
Theresa Caputo currently lives in Hicksville, NY with her husband Larry and her two children Larry 21 and Victoria 17. Theresa Caputo tickets for all October and November shows nationwide are now available at HeadlineTickets.com.
Headline Tickets Now is one of the most popular secondary ticket websites on the Internet. They have affordable sports, theater, and concert tickets across the United States and Canada all without service fees. Headline Tickets Now is an accredited business with the Better Business Bureau (BBB) of Western Pennsylvania